Khan later posed for the cameras while sitting at a long table, showing a stack of tear gas shells which he said were collected from around his house.
He tweeted, 'What crime did I commit that my house was attacked like this.' Fawad Chaudhry, a senior party leader of Khan's party, claimed that hundreds of Khan's supporters were injured.
In the Islamabad High Court, Khan's lawyer Khawaja Haris petitioned for suspension of the warrant for the former prime minister but the court rejected the motion.
Khan, who was ousted by a no-confidence vote in parliament in April, was ordered to appear before a judge in Islamabad on Friday to face charges of illegally selling government gifts he received during his tenure and concealing his assets. Can answer the allegations.
The former prime minister has avoided court appearances since November, when he was injured in a gun attack at a protest rally in eastern Punjab province, claiming he wanted to travel from Lahore to Islamabad to face indictment. was not medically fit for
Last week, he went to Islamabad to appear in three courts but failed to appear in the fourth court to face indictment in the corruption case, which is a legal process to start his trial.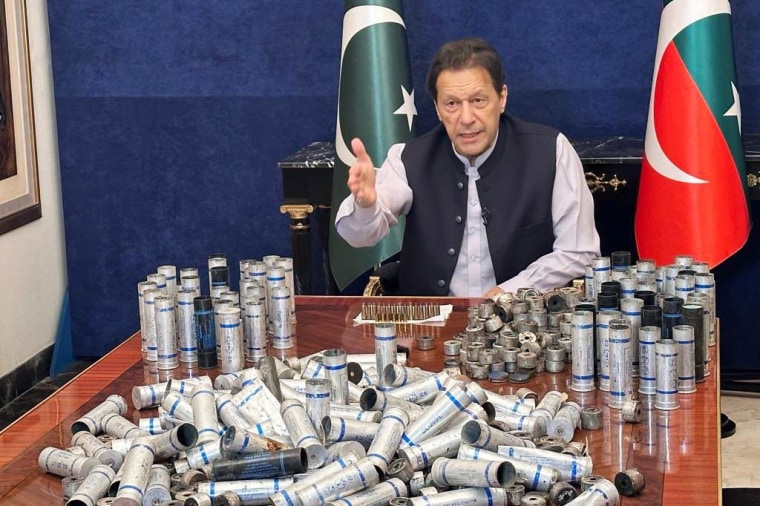 Khan has claimed that the multiple cases against him, which include terrorism charges, are a conspiracy by the government of his successor, Prime Minister Shahbaz Sharif, to discredit the former cricket star-turned-Islamist politician.
In the afternoon, the situation in Lahore calmed down and the police withdrew to reduce the tension. This encouraged more Khan supporters to join him outside and inside his home. Many people chanted Allahu Akbar, the Arabic phrase for "God is great" as Khan, still wearing a gas mask, greeted them.
Azhar Siddiqui, another lawyer for Khan, said the Lahore High Court ordered the police to stop operations outside Khan's house till Thursday, although they would remain stationed nearby.
The Punjab provincial government said on Wednesday that more than 100 police officers were injured in clashes with Khan's supporters. He denied Khan's allegation that the officers were using live bullets.
From his home, Khan urged followers on Tuesday to fight even if he is arrested. He wrote on Twitter, "They think this country will sleep when Imran Khan goes to jail." "You need to prove them wrong." On Wednesday, he tweeted that a plot was being hatched to "kidnap and murder" him.
Prime Minister Sharif criticized Khan in televised comments on Wednesday, saying the former prime minister "considers himself above the law and has been defying court orders to avoid arrest." Sharif insisted that he had nothing to do with the arrest warrant, which he said was a court order and that the police were merely following it.
In Pakistan's turbulent political history, at least seven former prime ministers have been arrested and tried by courts on various counts since the South Asian country's creation in 1947 after gaining independence from British colonial rule.
Former Prime Minister Zulfikar Ali Bhutto was executed by the military government in 1979 following a coup. His daughter, Benazir Bhutto, served as prime minister twice and was assassinated in 2007 during an election rally in the garrison town of Rawalpindi.
Nawaz Sharif, Pakistan's longest-serving prime minister and brother of the current prime minister, held office from 1990 to 1993 and from 1997 to 1999, when he was ousted in a military coup by General Pervez Musharraf. He returned as prime minister in 2013 but was removed by the country's Supreme Court in 2017. He was later arrested, tried and convicted in a corruption case, although he always denied the charges and today lives in exile in the UK.