TOKYO — A wave of jokingly dubbed "sushi terrorism" has Japanese diners thinking twice about the country's iconic conveyor belt restaurants, prompting changes in the way the chains serve the signature dish and Now the arrest has taken place.
A series of viral videos showing such unhygienic behavior began popping up on social media late last year, threatening the multi-billion-dollar "kaitenzushi" industry in the country known for its high standards of hygiene. puts in
In one, a teenager licks the rim of a cup after wiping drool on a plate of sushi and puts it back on the shelf. Another showed a diner spraying food with hand sanitizer as it was rolled out.
As a result, conveyor belt sushi restaurants, whose parent companies have seen their stock values ​​plummet since the fad emerged, are scrambling to reassure customers horrified by the footage.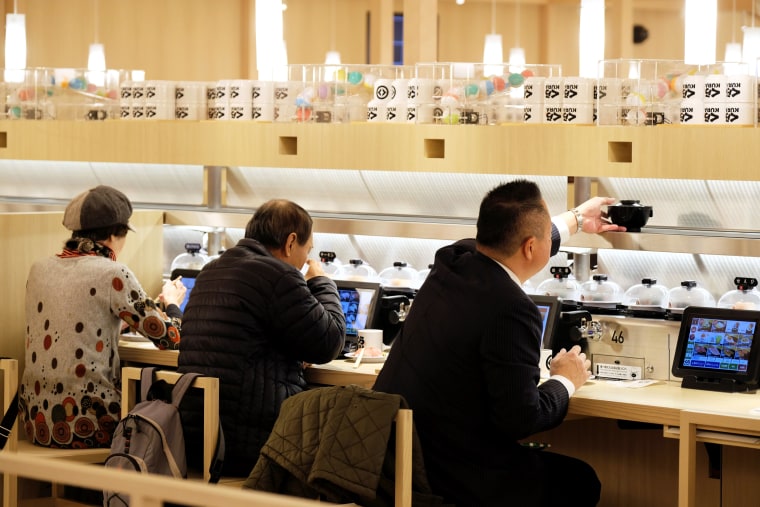 Police in Aichi Prefecture arrested two men, aged 21 and 19, along with a 15-year-old girl in connection with a video that showed one of them drinking straight from a communal bottle of soy sauce, the force said. told the France-Presse news agency Wednesday.
Police said the incident happened on February 3 at a branch of a katenzushi, or conveyor belt sushi restaurant, run by the Kura sushi chain in the central city of Nagoya.
Kura Sushi said in a statement that it will do everything it can to protect conveyor belt sushi that has been embedded in Japanese culture for decades.
"We sincerely hope that this arrest will serve as a catalyst for wider public recognition of the 'crime' of nuisance behavior that shakes the very foundation of a system based on a relationship of trust with our customers, and we truly Let's hope there will be no more copycat crimes," it said.
Another chain said it is getting rid of the conveyor belt entirely.
Choshimaru, which has several locations in and around Japan's capital Tokyo, said in a statement that by the end of April its conveyor belt system would be phased out and customers would instead order using a touch panel system.
The move, it said, was "a countermeasure against recent nuisance practices that have caused serious damage to the restaurant industry."
Susan Sichelsky And Emma Lee Contribution,