ANACORTES, Wash. — Two BNSF trains were derailed Thursday in separate incidents in Arizona and Washington state, the latter following a diesel fuel spill on tribal lands along Puget Sound.
No one was reported to be injured. The cause of either of the derailments is not clear.
The derailment occurred on a berm along Padilla Bay in Washington, on the Swinomish Tribal Reservation near Anacortes. According to the state Department of Ecology, most of the 5,000 gallons of spilled diesel fuel leaked onto the land side of the berm rather than into the water.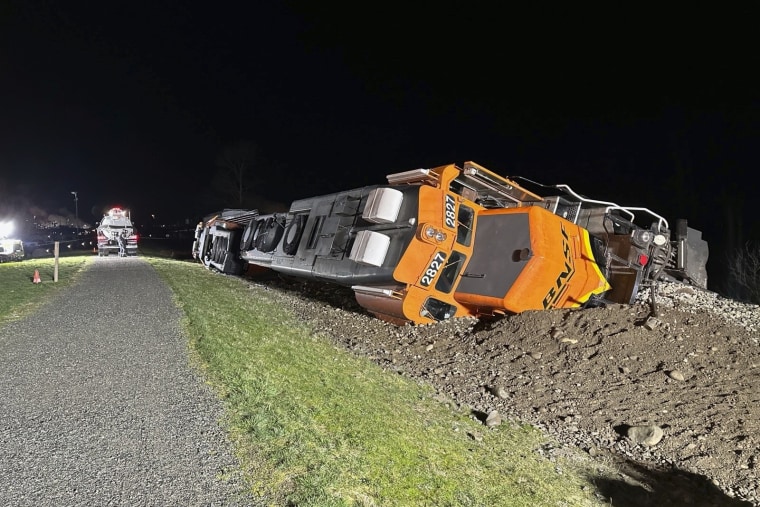 Officials said there was no indication that the spill reached water or affected any wildlife.
Responders placed a boom along the shoreline as a precaution and removed the remaining fuel from the two derailed locomotives. Four tank cars remained standing.
A train carrying corn syrup was involved in the derailment in western Arizona near the state border with California and Nevada. Anita Mortensen, a spokeswoman for the Mohave County Sheriff's Office, said she was not aware of any leaks or spills.
BNSF spokeswoman Lena Kent said an estimated eight cars were derailed in Arizona and were blocking the main track. The cause of the derailment was under investigation, and it was not immediately known when the track would reopen.
Rail safety has drawn attention across the country after a fiery derailment last month in Ohio and since then a series of derailments that have been making headlines in Michigan, Alabama and other states.
On average, there are about three train derailments per day in the US, according to federal statistics, but relatively few create disasters.
Last month, a Norfolk Southern freight train loaded with hazardous chemicals derailed in East Palestine, Ohio, near the Pennsylvania border, causing a fire and evacuating hundreds of people.
Officials intentionally released toxic vinyl chloride from five rail cars and burned them to avoid an uncontrolled explosion, sending flames and black smoke into the sky. People questioned the potential health effects, while officials said they were doing their best to protect people.