California is facing a fresh spate of severe weather this weekend, with a winter storm expected to bring heavy snow, rain and a threat of flooding to parts of the state, potentially "costing life and property". at great risk", forecasters warn.
The National Weather Service said the storm is expected to affect the West Coast, especially California, through Friday, bringing "heavy rain".
The Weather Service's Weather Prediction Center has issued a high risk of extreme rainfall for California through Saturday morning, with the potential for severe, widespread flash flooding with the storm.
"Areas that do not normally experience flash flooding will be inundated," the weather service said. "Life and property are in great danger from Friday to Saturday morning," it warned.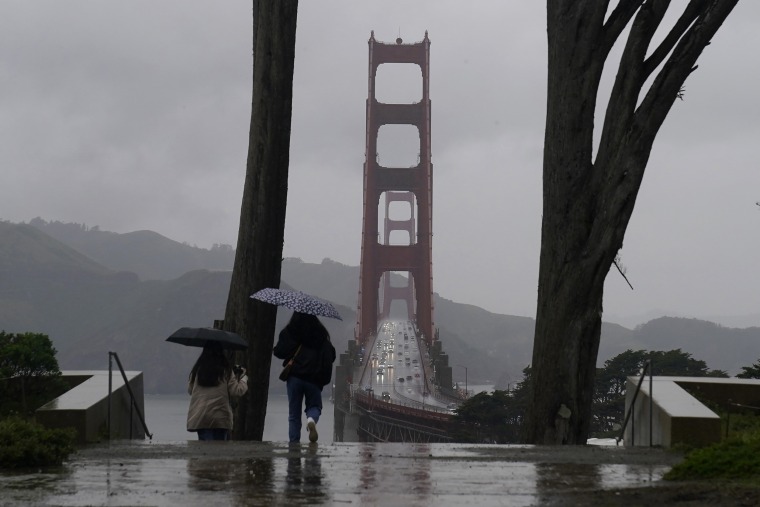 Forecasters and other officials said an "atmospheric river" already began flowing into California on Thursday, raising the risk of flooding.
"With abundant rain coming from these atmospheric rivers, we will again see the effects of flooding," California state climatologist Michael Anderson said at Thursday's news briefing. He described some of the expected rainfall totals as "surprising".
At least 10 rivers are expected to exceed flood stage by Friday morning, according to the California Nevada River Forecast Center.
The weather service said heavy rain and high snow is expected across parts of the state, with warm air associated with the storm could see rain on existing snowpack up to 8,500 feet.
The weather service said "considerable flooding impacts" are possible in central California from the highest snow levels and heavy rainfall possible along the central coast and parts of the San Joaquin Valley.
"Rain and snow will cause flooding," it warned, adding that the most significant snow and overall flooding risk is expected in areas with shallow snowpack below 5,000 feet in elevation. "Creeks and streams in the foothills of the Sierra Nevada will be more vulnerable to flooding from rain and snowmelt," it said.
Heavy sleet is also expected in parts of Northern California and the Sierra Nevada at higher elevations, expected to see heavy, sleet snow that could make travel difficult.
The risk of extreme precipitation is expected to decrease significantly Saturday, with the Weather Prediction Center warning of a "slight risk of extreme precipitation" for parts of California Saturday into Sunday morning.
"The associated heavy rain will create localized areas of flash flooding, affecting areas that experience rapid runoff and burnout," the weather service said.
The storm is one of a series of systems that lashed the state in March, prompting the California government to declare a state of emergency on Wednesday to expand the state's storm response and relief efforts.
Last week, Newsom declared a state of emergency in 13 counties amid the brutal storm. The governor activated the California Guard and the State Operations Center to support the state's county-led emergency response efforts and help coordinate mutual aid with neighboring regions.
The latest state of emergency will expand the state's efforts to 21 more counties, including, "Butte, El Dorado, Fresno, Humboldt, Imperial, Inyo, Lake, Mendocino, Merced, Monterey, Napa, Placer, Plumas, Sacramento, San Francisco, San Mateo, Santa Clara, Santa Cruz, Stanislaus, Tuolumne and Yuba," according to a news release from Newsom's office.
"The state is working around the clock with local partners to deploy life-saving equipment and first responders to communities throughout California," Newsom said in a statement. "With more dangerous storms on the horizon, we will continue to mobilize every available resource to protect Californians."
The storm is expected to move from the Rockies into the Plains, bringing rain and severe thunderstorms across the Southern Plains and parts of the lower Mississippi Valley.
"Hazards associated with these thunderstorms are often lightning, severe thunderstorms, wind gusts, hail and some tornadoes," the weather service said.
The northern half of the system is expected to bring heavy snow to parts of the northern plains on Friday as well as parts of the Upper Mississippi Valley on Saturday. Rain is also expected over parts of the central Mississippi Valley, with snow expected in the Great Lakes through Sunday.
The severe weather in California comes after a powerful winter storm that brought blizzard conditions and many feet of snow to the mountains of Southern California in late February.
Heavy snowfall isolated communities and trapped some residents in their homes. Wrightwood, a community of about 4,700, saw about 50 inches of snow, or a little more than 4 feet, according to the weather service.
Some mountain highways began to reopen this week after being closed for more than 10 days.