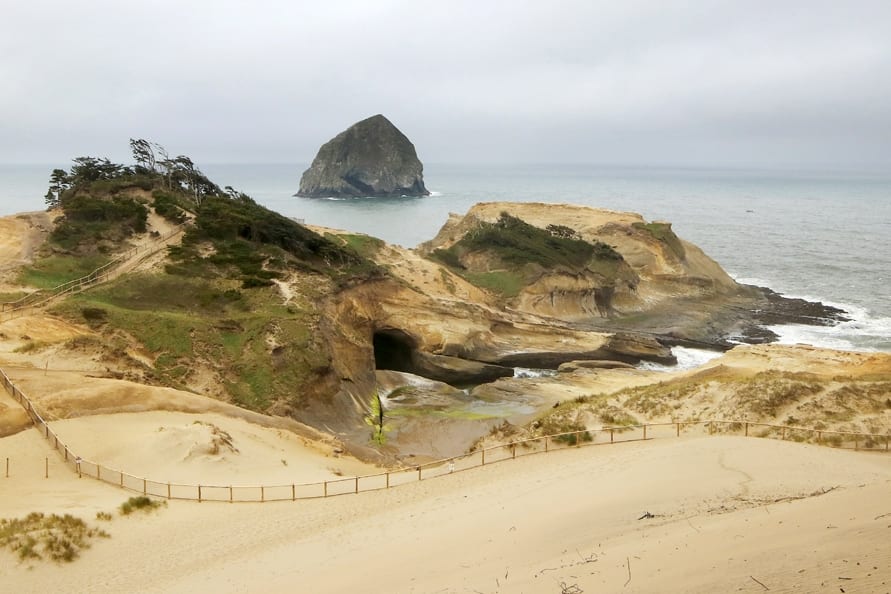 A Los Angeles area man died and was swept out to sea after he fell while hiking along a dangerous stretch of the Oregon coast over the weekend, officials said Monday.
Oregon State Police said in a statement on Monday that the body of 25-year-old Henry Minh Hoang was recovered on Sunday. The exact location was not disclosed.
State police said Hoang was hiking Saturday in Cape Kiwanda State Natural Area, 96 miles west of Portland, when he tripped and fell about 20 feet.
He is believed to have fainted and been washed away in the Pacific Ocean, they said. The agency said it happened at 5 p.m. along a section of the shoreline known as the "Punch Bowl".
"Witnesses lost sight of the victim and the rescue operation later turned[ed] in a possible recovery operation," it said.
State police said a manhunt was launched with the help of the Tillamook County Sheriff's Office, the Nesuqua Rural Fire Protection District and the Coast Guard, but was suspended until morning as darkness fell.
The agency said Hoang's body was found on a nearby beach on Sunday afternoon.
State police said his path had taken him past a "safety fence" at the state park, where a sandstone headland gives visitors views of the Pacific Ocean and the rocky shore that straddles it.
The picturesque park is an attraction featured in countless tourist guides. Oregon State Parks has long warned visitors about the unstable bluff made of sea-sculpted sandstone.
The Cape Kiwanda State Natural Area's webpage states, "Beyond the fence, the edge of the cliff will crumble – and without warning."
"It's dangerous, and people have died after climbing over the security fence," the site says. "Don't do it. The views are spectacular from the established viewpoint, on the safe side of the fence."
Efforts to reach Hoang's relatives were unsuccessful. State police said he was from West Covina, 19 miles east of Los Angeles.