With Washington and Beijing locked in a tense superpower rivalry, the United States faces an uphill task in understanding the intentions of leaders in a country where power is increasingly concentrated, former US intelligence officials said. And surveillance is widespread.
Reliable information about decision-making in China is in high demand in Washington as Beijing may choose to arm Russian forces waging a war in Ukraine or attempt to seize control of Taiwan by force.
But under President Xi Jinping, China has become an elusive target for US intelligence agencies, according to five former senior intelligence officials and congressional aides.
Xi's tight grip on power, his government's vast electronic surveillance system, crackdown on dissent in Hong Kong and a strict three-year lockdown have made intelligence-gathering extremely difficult, former officials said. Some of the officials spoke on condition of anonymity because of the sensitive nature of the subject.
Furthermore, the US has yet to fully recover from the devastating blow in which a network of intelligence informers inside China was exposed and dismantled.
The episode represents one of the most significant intelligence breaches in US history, NBC News reported earlier. According to several current and former government officials, the Chinese accessed secret communications and used that knowledge to arrest and execute at least 20 CIA informants.
A former intelligence official said, "It was a terrible, devastating loss for the intelligence community." "Life was lost."
Top intelligence officials are scheduled to testify Wednesday and Thursday at annual congressional hearings on the global threats facing the US, and China is likely to dominate much of the discussion.
Until a decade ago, China's collective leadership, with power more dispersed among different factions and individuals, offered a range of potential intelligence targets and a more fluid political environment.
"There was a wide spectrum of people whom the intelligence agencies could target. It is now a much more centralized, agile system," said a former senior US intelligence official familiar with the matter.
"The risk of being surprised is high."
Chris Johnson, president of China Strategies Group, a political risk consultant, said the consolidation of power under Xi combined with three years of tough anti-Covid policy "has made it very difficult to get official information out of the system."
"Then, more broadly, the expansion of their monitoring and surveillance capability over the years makes it very challenging," said Johnson, a former senior CIA China analyst.
In short, he said, "It's a b—-."
Former intelligence officials and analysts said that if Xi were to die suddenly, US intelligence agencies would have no clear idea who could be his successor.
"The system is kind of off because we just don't know," said Dennis Wilder, who served as the CIA's deputy assistant director for East Asia and the Pacific from 2015 to 2016.
"The inner ring is difficult to penetrate," said Wilder, research fellow at the US-China Dialogue Initiative on Global Issues at Georgetown University.
The CIA and the Office of the Director of National Intelligence did not respond to requests for comment.
'Not a black box'
Some former intelligence officers and regional experts are more optimistic about America's ability to read China, as they say Xi and other senior Communist officials often state the regime's goals and objectives publicly.
A former national security official said, "China is not an intelligence black box." In examining his speeches and directives, intelligence analysts have long assessed that Xi sought to displace the US as the world's dominant power and replace the US-led government with a reflection of China's values ​​and interests. Requested to change the order.
CIA Director William Burns and other top Biden administration officials recently chose to publicly disclose intelligence reporting that suggested China was considering supplying weapons to Russia in its war in Ukraine Was.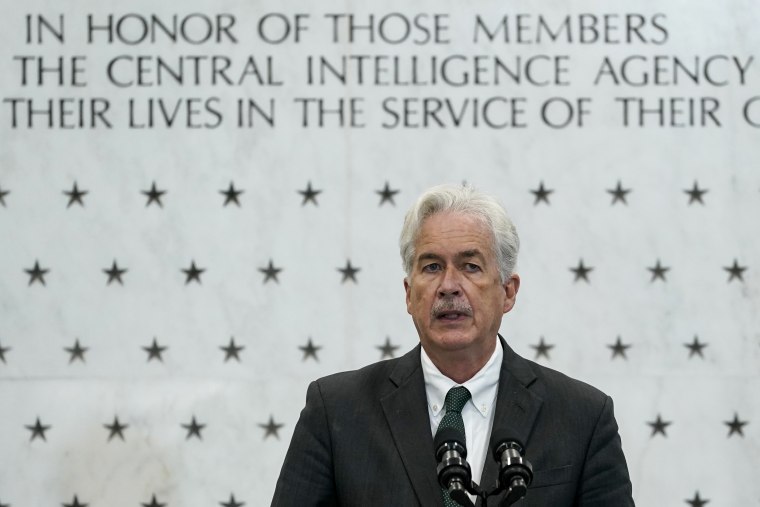 The disclosure "shows that the upper echelons of the Chinese government have some insight into what is going on," said Molly Saltskog, a senior intelligence analyst at the Soufan Group, a global intelligence and security consultant.
NBC News previously reported that preliminary intelligence suggesting that China was considering such a move had been received from Russian government officials. A current and former US official said US officials then confirmed the information with other sources of intelligence and with allies.
China has denied it is considering sending lethal aid to Russia, dismissing the US allegation as "disinformation".
US officials say they have exposed and disrupted Chinese efforts to spy inside America over the past several years. The first Chinese intelligence officer to be extradited to the US, Yanjun Xu, was sentenced last year to 20 years in prison after being convicted of economic espionage against GE Aviation and other aviation companies.
US intelligence leaders have vowed to treat China as their top priority. In 2021, the CIA announced a new center focused on intelligence gathering about China. Announcing the move, Burns said the "China Mission Center" will further strengthen our collective work on the most important geopolitical threat facing us in the 21st century, an increasingly hostile Chinese government.
design on taiwan
China has long refused to seize control of Taiwan by force if necessary, but some senior US military commanders have warned that the People's Liberation Army is ready and even within the next several months. It is likely to launch an invasion within years.
Some former intelligence officers and China experts disagree, arguing that there is a clear gap between China's military capabilities and the intentions of its political leaders – and that Xi's plans are uncertain.
Continued tough rhetoric from Washington risks pushing China into more aggressive action rather than deterring it, former officials said.
China's new foreign minister, Qin Gang, said Tuesday that the US and China are headed for an inevitable "confrontation and conflict" unless Washington changes course.
Former intelligence officials said the intelligence challenge posed by China and the increasingly hostile atmosphere in US-China relations underscored the need for greater dialogue between the two superpowers.
The Biden administration has cited the need to unite allies and partners to enhance America's competitiveness and counter China, said Johnson, a former CIA analyst, but "you have to talk to the Chinese as well." "You have to talk to him."
Communication channels, especially relations between the Chinese and US armies, have deteriorated. The breakdown in communications was on full display when a Chinese surveillance balloon overran the US last month, after China dismissed a phone call from Defense Secretary Lloyd Austin.
Eli Ratner, assistant secretary for Indo-Pacific security affairs, described the lack of communication as "destabilizing and dangerous" and said that "we think we both should do a better job of managing it."
"These are the times when we need to talk about what are our intentions, what are our approaches," he said.