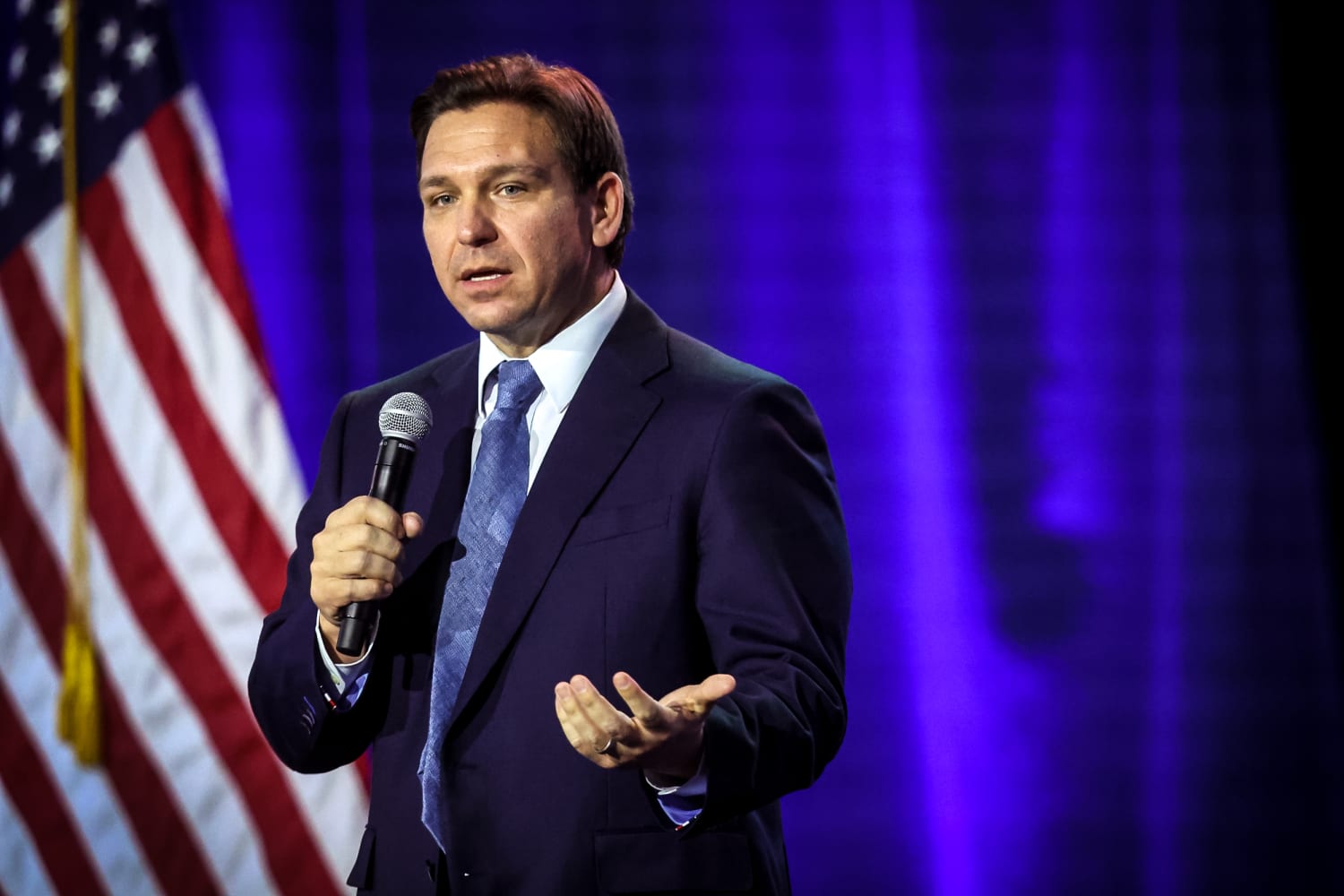 Administration of Florida Gov. Ron DeSantis is seeking to revoke a Miami hotel's liquor license for holding a Christmas-themed drag show with children in attendance.
"A Drag Queen Christmas" was held on December 27 at the Hyatt Regency Miami hotel as a part of a larger holiday-themed drag show tour. The tour featured several stars from the Emmy-winning competition show "RuPaul's Drag Race" and took place in 36 US cities. Minors were allowed if they were accompanied by an adult.
In a 17-page complaint filed Tuesday with the Florida Department of Business and Professional Regulation's Division of Alcoholic Beverages and Tobacco, which the department shared with NBC News, the DeSantis administration argued that the hotel violated Florida obscenity laws by hosting the show. violated.
The complaint cited a 1947 state Supreme Court case that found "men impersonating women" to constitute a public nuisance. It has also been argued that the hotel exposed children to "simulated sexual activity, and lewd, obscene and indecent exposure".
"The nature of the show's performance, especially when conducted in the presence of small children, corrupts public morals and offends the sense of public decency," the complaint states.
Hyatt Regency Miami general manager Amir Blatner said in a statement that the hotel is reviewing the complaint and that its "liquor license remains in effect."
The hosts of "A Drag Queen Christmas" — "RuPaul's Drag Race" Trinity The Tuck and Nina West — did not immediately respond to NBC News' requests for comment.
Trinity the Tuck appeared on social media Tuesday night to address the complaint, writing on Instagram: "You're not really an ally if you're not as outraged as the rest of the community!"
"This is much more than a ban on drag," she wrote. "It's a disguise to suppress the rights of trans people."
Nina West called the complaint "absolutely absurd" in an Instagram story she shared on Wednesday.
The Hyatt Regency Miami is the third complaint the DeSantis administration has filed against a Florida venue for hosting a drag show, and it is the second complaint filed against a venue for hosting "A Drag Queen Christmas".
In July, the administration filed a similar complaint against Miami restaurant R House, citing a 1947 State Supreme Court case. And last month, the administration filed a complaint against the Orlando Philharmonic Plaza Foundation for hosting a Christmas-themed drag event.
Brian Griffin, a press secretary to the governor, said in a statement: "Explicit sexual content is not appropriate for children to display and violates Florida law." "Governor DeSantis is standing up for the innocence of children in the classroom and across Florida."
The DeSantis administration's efforts come as other Republican lawmakers around the country aim to ban the centuries-old art form.
So far this year, lawmakers in at least 16 states, including Florida, have proposed legislation that would ban drag performances, largely banning them with minors in attendance, according to an NBC News analysis. Many bills would impose fines of thousands of dollars on repeat violators, and some would include prison sentences.
Tennessee is the only state to have passed such a law so far. This month, the state's Republican governor, Bill Lee, signed a measure banning "adult cabaret entertainment" on public property or in places where it could be viewed by minors. Artists who violate the law multiple times can be charged with a felony and face up to six years in prison.
Those in favor of bills restricting where and in front of whom drag performances can take place argue, such as the DeSantis administration, that these measures are necessary to protect children from exposure to inappropriate entertainment.
Critics say these bills unfairly target the art form, which has strong ties to the LGBTQ community, and violate constitutional rights to free speech and free expression.
Former Florida State Representative Carlos Guillermo Smith, a gay Democrat who has been an outspoken critic of the DeSantis administration, has called for banning drag performances as part of an "ongoing effort to marginalize LGBTQ people and their allies". Efforts described.
"These manufactured moral panics, they're designed to distract us from the real issues," said Smith, a special projects manager at the LGBTQ advocacy group Equality Florida. "The same politicians who are spreading false hysteria about drag queens and immigrants and LGBTQ people in schools are failing to address the real problems Floridians face."
State legislators across the country have introduced more than 400 bills so far this year that target LGBTQ rights, including legislation limiting drag, according to a tally by the American Civil Liberties Union, with Florida having 10 such bills. Are included.