Four people aboard two small planes were killed Tuesday in central Florida when the planes collided mid-air and plunged into a lake, officials said.
The collision was reported over Lake Hartridge in Winter Haven at 2:04 p.m. Polk County Sheriff's Office Chief of Staff Steve Lester said at a news conference that first responders arriving at the scene found one plane 21 feet below the surface and the other partially submerged.
"It was an mid-air collision, and both aircraft immediately went into the water," he said.
The sheriff's office said first responders went into search and rescue mode and recovered the bodies of four people aboard the planes.
The sheriff's office identified three of them as Faith Irene Baker, 24, of Winter Haven; Zachary Gene Mays, 19, Winter Haven; and Randall Elbert Crawford, 67, of Carlisle, Pennsylvania.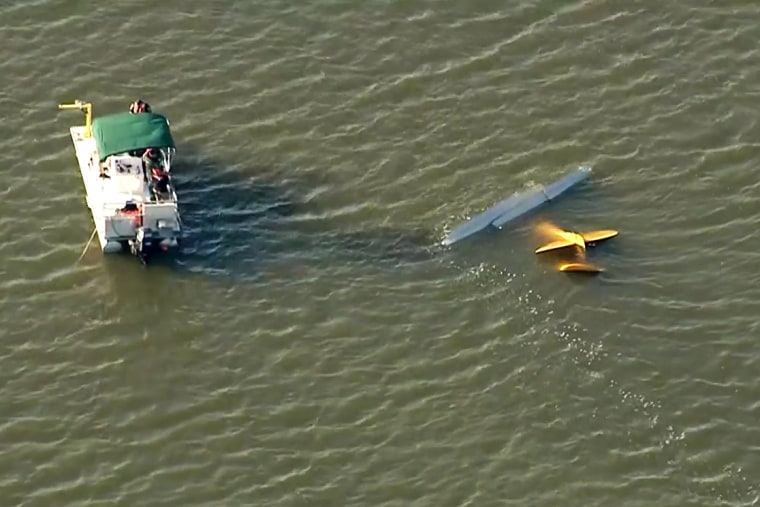 The sheriff's office said the planes were a Cherokee Piper 161 operated by Sunrise Aviation on behalf of Polk State College and a Piper J-3 Cub operated by Jack Brown's Seaplane Base in Winter Haven.
The sheriff's office said Baker, a Sunrise Aviation pilot and flight instructor, and Mays, a student at Polk State College, were on the Piper Cherokee.
Deputies are working to confirm the identity of a fourth person who was aboard the J-3 Cube with Crawford.
"My condolences go out to the families and friends of those killed in today's accident," Polk County Sheriff Grady Judd said in a statement.
Polk State College, which has campuses in Winter Haven and elsewhere in Polk County, said it mourns the deaths of Mays and Baker.
"Our Polk State College family is devastated by this tragedy," President Angela Garcia Falconetti said in a statement from the school.
It was not immediately clear how the planes collided. Lester notes that the closest airport, Winter Haven Regional Airport, is just a few blocks away from the lake.
The sheriff's office said the cause of the crash would be investigated by the National Transportation Safety Board and the Federal Aviation Administration.
About 50 miles south of Orlando is Winter Haven.
Lindsey Pipia And Juliet Arcodia Contribution,