Their fury only grew after Macron, facing a divided parliament and lacking support from the right-wing Republican Party, instructed Prime Minister Elizabeth Borne to invoke Article 49.3 of the constitution on Thursday, allowing the law to Can be passed without the vote of MPs.
Thousands gathered on Thursday in the Place de la Concorde, which is opposite the National Assembly building, and sporadic protests continued into the night. Huge plumes of black smoke rose from the Gare du Lyon, a busy railway station in the eastern part of the city, early Friday.
Protests also took place in several towns and cities, including Rennes in the west and the southern port city of Marseille.
Interior Minister Gerald Darmanin said some 310 people had been arrested.
Unions have said the next nationwide strike day – the eighth in the past three months – is set for next Thursday.
Meanwhile, the piles of rubbish on Paris' famous streets are a stark – and pungent – ​​symbol of the anger felt by public sector workers over pension plans. Paris City Hall estimates that there is about 13,000 tons on the streets.
The city's sizable tourist economy continued despite major sightseeing tours continuing. But the experience had some additional and unwanted features.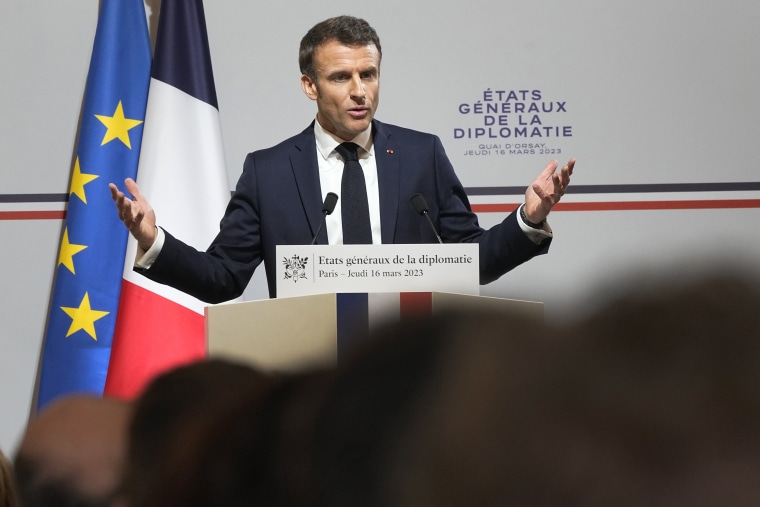 Doris Arceguel, navigating a small group of Brazilian tourists through the narrow cobbled streets of the garbage-filled 5th arrondissement, tells them to beware of any rats who are having a field day.
"It's very difficult to show tourists the beauty of Paris with all the garbage and the barricades," Arceguel, 53, told NBC News. "The beauty of Paris is now completely covered. Enough is enough.
The anti-reform cause has also been enthusiastically taken up by young people, who face working long hours under dire financial constraints.
At the prestigious Lycée Henri-IV school in central Paris, about 100 students blocked the entrance on Friday morning in protest against the policies of Macron, an illustrious alumnus.
Not far from the 18th-century Pantheon monument where the remains of French philosophers Voltaire and Rousseau are kept, students clapped and cheered wildly, saying: "Macron, you're done! Your high school is on the streets!
"I want to make my voice heard because it's the only way we can show that we don't agree with what's going on. It's important for young people to say what they feel because without a voice you don't count are," said 16-year-old Emma Mendel.
Soren Lafarge, 16, also said that despite not having the right to strike or vote in elections, the students are making their voices heard.
"We are here to show that we support people's movement against pension reform and we all are against that kind of system of democracy where you can pass laws without vote and we advocate for a better democracy." do," he said.
This week's civil unrest was the capital's worst since the Gilet Jones, or Yellow Vests, protests in 2018 and 2019, triggered largely by gas costs but also a populist movement against Macron's centrist, technocratic government Developed in
Those protests ended in a partial U-turn, with Macron scrapping the carbon tax hike. But there is little prospect of him overturning the pension age scheme, which was a key manifesto commitment before his re-election victory last summer.