Here's what's inside the nearly $125,000 Oscars gift bag
The 2023 edition of the bag — which isn't affiliated with the Academy Awards — is valued at roughly $123,000, according to documents reviewed by CNBC Make It, and includes more than 60 gifts ranging from a $16 package of chocolate-covered pretzels to a $40,000 visit to a luxury Canadian estate.
This year's biggest offering is a $40,000 three-night stay at the remote luxury property The Lifestyle in Ottawa, Canada. The bags also include dozens of other items and vouchers, such as: Shinery Radiance Wash, a hand soap featured on the Oprah's Favorite Things list that cleans your jewelry while you wash your hands, and up to $10,000 worth of procedures from Dr. Konstantin Vasyukevich, including chemical peels, laser skin resurfacing and Botox.
Read more from CNBC here.
It's not always sunny in Los Angeles
While the city of stars experienced some rainfall on Friday and Saturday, Sunday's forecast appears to be less wet.
Today's forecast is cloudy, with a low of 54 degrees and a high of 64 degrees, according to the Weather Channel.
The academy has a crisis team in place to avoid any slaps
It seems like the academy wants the unforgettable Oscars slap to remain forever in the past.
In a February interview with Time, Bill Kramer, the CEO of the Academy of Motion Picture Arts and Sciences, revealed that the academy now has a "whole crisis team" — which it has never had before — "and many plans in place."
"Because of [the slap] last year, we've opened our minds to the many things that can happen at the Oscars," Kramer said. "But these crisis plans — the crisis communication teams and structures we have in place — allow us to say this is the group that we have to gather very quickly. This is how we all come together. This is the spokesperson. This will be the statement. And obviously depending on the specifics of the crisis, and let's hope something doesn't happen and we never have to use these, but we already have frameworks in place that we can modify."
Don't expect to see Will Smith tonight
In April, the Academy of Motion Picture Arts and Sciences announced it would prohibit Will Smith from attending the Academy Awards for 10 years after he slapped Chris Rock during the 2022 telecast.
Smith slapped Rock for making a joke about his wife, Jada Pinkett Smith. He apologized and resigned from the group behind the Academy Awards — a move that prevented the academy from suspending or expelling him. In a statement after the announcement, Smith said: "I accept and respect the Academy's decision." 
But Smith hasn't been entirely shunned by Hollywood. He accepted the Beacon Award at the African American Film Critics Association Awards this month. In December, he starred in the Apple-released film "Emancipation" and made several public appearances (including at the film's red carpet premiere) to promote it.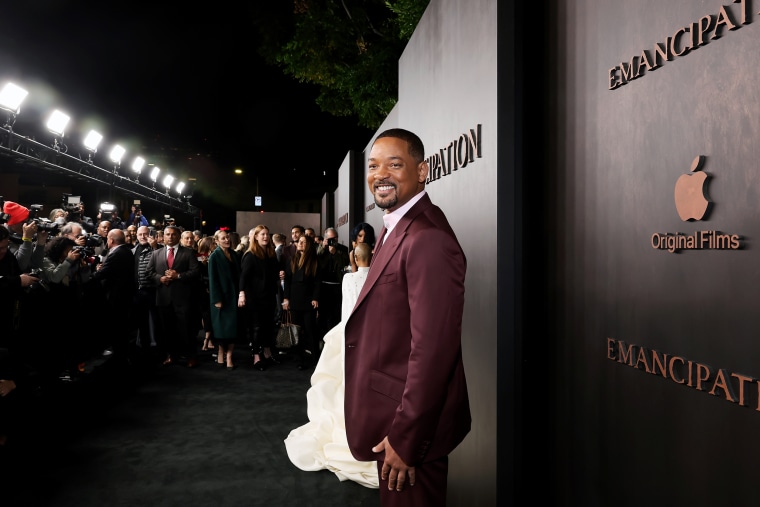 PSA to Angelenos: Avoid the Dolby Theatre area
Nothing says Los Angeles like a good ol' traffic jam. And Oscars Sunday is no different. That's why academy officials always warn people of street closures ahead of time.
Hollywood knows how to throw a party
Per usual, parties were aplenty in the week leading up to Hollywood's biggest night — and some of the biggest parties will actually take place after the show.
Variety rounded up a full list. Among the highlights: the Vanities Party: A Night for Young Hollywood, which took place Wednesday; the Essence Black Women in Hollywood Awards, which honored Gina Prince-Bythewood, Tara Duncan, Danielle Deadwyler, Dominique Thorn and Sheryl Lee Ralph, on Thursday; and CAA's annual party Friday.   
This year's best lead actor nominees are…
Austin Butler ("Elvis") 
Colin Farrell ("The Banshees of Inisherin") 
Brendan Fraser ("The Whale") 
Paul Mescal ("Aftersun") 
Bill Nighy ("Living") 
Oscars voting ended Tuesday
This year, 9,579 members of the academy were eligible to vote, according to Variety. On Tuesday, Oscar voting officially closed. 
Who is presenting?
The academy announced a slew of presenters in the weeks leading up to Hollywood's biggest night — and there's, as expected, a lot of star power.
To name a few: Riz Ahmed, Halle Bailey, Antonio Banderas, Elizabeth Banks, Emily Blunt, Jessica Chastain, John Cho, Glenn Close, Jennifer Connelly, Ariana DeBose, Andrew Garfield, Hugh Grant, Danai Gurira, Salma Hayek Pinault, Samuel L. Jackson, Dwayne Johnson, Michael B. Jordan, Nicole Kidman, Troy Kotsur, Jonathan Majors, Melissa McCarthy, Janelle Monáe, Deepika Padukone, Florence Pugh, Questlove, Zoe Saldaña, Sigourney Weaver and Donnie Yen. 
'Till' and 'The Woman King' among this year's snubs
The few movies by and about Black people that may have been considered Oscar bait this awards season — including a film about the aftermath of Emmett Till's lynching in 1955 and "The Woman King" — did not make it to the list of nominations announced this year.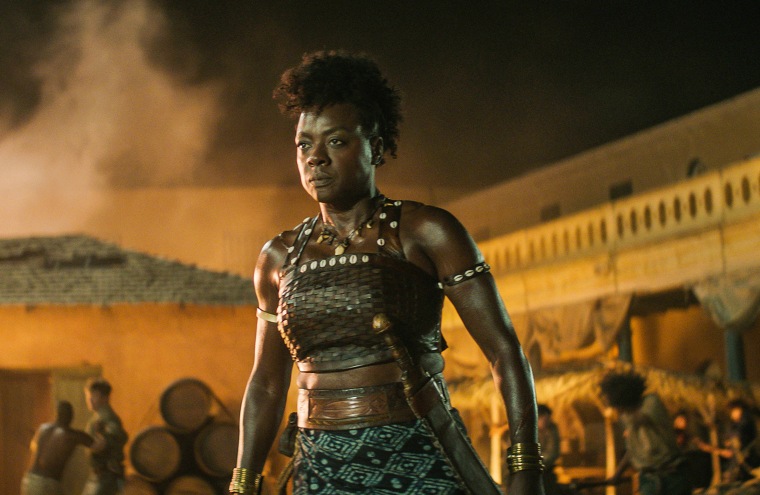 Danielle Deadwyler, who played Till's mother, and Viola Davis, who depicted a female warrior in 19th century West Africa in "The Woman King," were snubbed in the best actress category. Gina Prince-Bythewood, the director of "The Woman King," was not nominated, nor was Chinonye Chukwu, who directed "Till."
While the science fiction horror film "Nope" had been lauded by film festivals and critics associations, the movie, directed by Oscar winner Jordan Peele and starring Keke Palmer, Daniel Kaluuya and Brandon Perea, earned no nominations. 
Chukwu wrote on Instagram the day after the Oscar nominations were announced: "We live in a world and work in industries that are so aggressively committed to upholding whiteness and perpetuating an unabashed misogyny towards Black women."
Deadwyler, asked about the post in a recent interview on the "Kermode & Mayo's Take" podcast, echoed Chukwu. "We're talking about people who perhaps chose not to see the film — we're talking about misogynoir — like it comes in all kinds of ways, whether it's direct or indirect. It impacts who we are."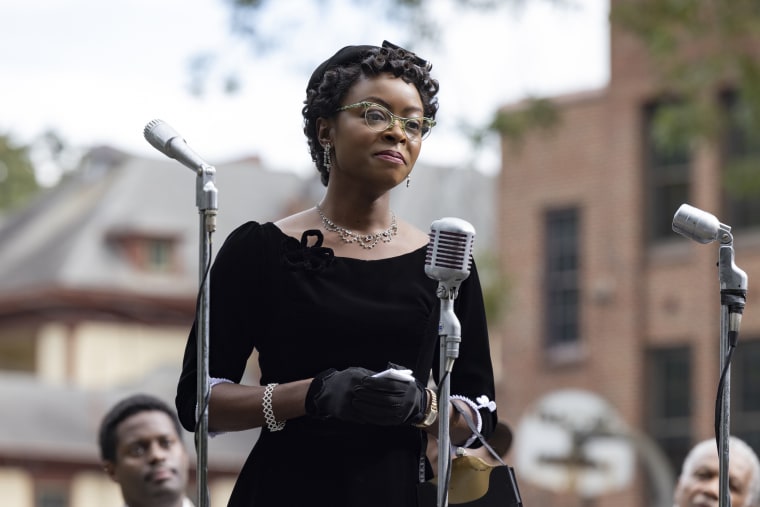 Every 'best picture' Oscar winner ever
Today.com put together a list of every Oscar best picture winners since 1928, starting with "Wings."
Check it out here.
Who's won what so far?
As we noted before, "Everything Everywhere All At Once" has been dominating this awards season, making it a likely frontrunner for the biggest category of the night: best picture. Daniel Kwan and Daniel Scheinert, the directors behind the film, are on track to also pick up the directing prize after being recognized at the Critics Choice, DGA and Indie Spirits. 
That's not to say it's a sure thing. "The Banshees of Inisherin" took home the best picture (musical/comedy), and "The Fabelmans" won best picture (drama) at the Golden Globes in January. Director Steven Spielberg also won the directing award at the Globes for the project.
The other categories to watch closely:
Best supporting actress. Although "Everything Everywhere All At Once" has received so much love and attention, it still came as a surprise when Jamie Lee Curtis, nominated for best supporting actress, nabbed a SAG Award for her performance. That's because Angela Bassett, nominated for best supporting actress for her role as Queen Ramonda, the matriarch in "Black Panther: Wakanda Forever," has also picked up some awards at the Golden Globes and Critics Choice earlier this year. Kerry Condon, nominated for "The Banshees of Inisherin," also earned a BAFTA for her supporting role. 
Best actress: At first, Cate Blanchett — who is a two-time Oscar winner — appeared to be the favorite for her role as Lydia Tár, an imperious orchestra conductor, in Todd Field's psychodrama "Tár." She won the best actress (drama) at the Golden Globes, and best actress at Critics Choice and BAFTA. But Michelle Yeoh, a veteran of Hong Kong and Hollywood cinema, has picked up steam in recent weeks, taking home the award for best actress (musical/comedy) at the Golden Globes, and best actress at the SAG and Indie Spirits.
Best actor: Austin Butler wow'd audiences with his performance as Elvis Presley in Baz Luhrmann's splashy biopic. The first-time Oscar nominee won a Golden Globe and BAFTA award for the performance. But Brendan Fraser has received some of the best reviews of his career for his his emotionally searing performance as a 600-pound writing instructor reckoning with regret in Darren Aronofsky's "The Whale." He won the best actor award at the Critics Choice and SAG. Some admirers dubbed his career resurgence "the Brenaissance" — and there's nothing Hollywood loves more than a good comeback. 
And the best picture nominees are …
"All Quiet on the Western Front"
"Avatar: The Way of Water"
"The Banshees of Inisherin"
"Elvis"
"Everything Everywhere All at Once"
"The Fabelmans"
"Tár"
"Top Gun: Maverick"
"Triangle of Sadness"
"Women Talking"
This year's red carpet isn't red
On Wednesday, Oscars host Jimmy Kimmel, academy CEO Bill Kramer and academy President Janet Yang rolled out the arrivals carpet — and it was purposefully not red.
In fact, it's a champagne shade, the Associated Press reported. It is the first time since first 1961 that the carpet has a new look.
"People have been asking, 'Is there going to be any trouble this year? Is there going to be any violence this year?' And we certainly hope not," Kimmel said at the unveiling, according to the AP. "But if there is, I think the decision to go with a champagne carpet rather than a red carpet shows how confident we are that no blood will be shed."
Though rain is not in Sunday's forecast, the carpet will also be covered, the AP reported, "in part to protect the stars and cameras from the weather, but also to help turn the arrivals into an evening event."
What to watch for this year
Will "Everything Everywhere All at Once" dominate? The film itself has already nabbed best picture equivalents at the Critics Choice, SAG, PGA and Indie Spirits awards. The masterminds behind the film — Daniel Kwan and Daniel Scheinert — have been awarded best director (or equivalent) wins at Critics Choice, DGA and Indie Spirits, as well. Michelle Yeoh, who starts in the film, has been honored with awards at the Golden Globes (in the musical/comedy category), the SAG Awards and the Indie Spirits. Ke Huy Quan, who is up for best supporting actor, has also charmed Hollywood, taking home the equivalent award at the Golden Globes, Critics Choice and SAG. And Jamie Lee Curtis, nominated for best supporting actress, also nabbed a SAG Award for her performance. 
How many slap jokes will there be? Host Jimmy Kimmel certainly isn't one to shy away from any awkward or uncomfortable moments and jokes (remember he hosted during the "Moonlight" and "La La Land" best picture fiasco in 2017). Plus, our guess is that there's going to be at least one presenter who makes a quip about the incident that shocked Hollywood last year.  
Will any winners make political statements in their speeches? Awards shows, including the Oscars, can get political. And while this year isn't an election year, it is the first Oscars to be held after the Supreme Court overturned Roe v. Wade and amid a women-led revolution in Iran and Russia's war on Ukraine.
Will Rihanna have another big surprise for viewers? I doubt anything will top the baby bump reveal during the Super Bowl halftime show, but hey, you never know.
Will Austin Butler still be rocking his Elvis drawl, which he seemingly can't kick? Butler wowed audiences with his performance as Elvis Presley in Baz Luhrmann's splashy biopic "Elvis." The first-time Oscar nominee won a Golden Globe and BAFTA award for the role. But viewers can't help but notice that every time he speaks … he's still seemingly in character. In February, he said he's officially "getting rid of the accent." We'll see.
Last but not least: Will Angela Bassett do the thing? The internet couldn't get actor Ariana DeBose's viral BAFTAs rap out of their heads, particularly one line homing in Bassett: "Angela Bassett did the thing." Bassett is nominated for best supporting actress for her role as Queen Ramonda, the matriarch in "Black Panther: Wakanda Forever." 
Who is this year's host?
Jimmy Kimmel is back for a third time to host the Oscars. He previously hosted the show in 2017 (aka the year the "La La Land" and "Moonlight" best picture screw-up happened #neverforget) and 2018. 
He's not alone in hosting the show multiple times — Jerry Lewis, Steve Martin, Conrad Nagel and David Niven have also helmed the show three times. Meanwhile, Whoopi Goldberg and Jack Lemmon hosted four times, respectively, Johnny Carson five times, Billy Crystal nine times and Bob Hope 11 times.
Check out Kimmel's promotional video — his Oscars teaser trailer — in which he gets hosting orders from "Top Gun: Maverick" stars Jon Hamm and Charles Parnell.
Are there any red carpet pre-shows?
If you're really, really into the Oscars, you can tune in early by watching ABC's pre-show "On the Red Carpet Live: Countdown to Oscars 95," which airs from 1 p.m to 4 p.m. ET/10 a.m. to 1 p.m. PT on Sunday.
Then, model Ashley Graham, actor Vanessa Hudgens and creator and comedian Lilly Singh will host a "Countdown to the Oscars" lead-in show at 6:30 p.m. ET/3:30 p.m. PT, also on ABC.
For those of you who are here for the ~ looks ~ E! kicks off its red carpet coverage at 5 p.m. ET/2 p.m. PT.
How to watch the Oscars
ABC, which holds the broadcast rights for the Academy Awards until 2028, will air the awards show live on Sunday at 8 p.m. ET/5 p.m. PT.
You can also stream the ceremony on ABC.com and the ABC app (but both do require cable subscriptions).