JENIN – Israeli forces stormed a refugee camp in the occupied West Bank city of Jenin on Tuesday, killing at least six Palestinian militants in the latest series of deadly military attacks carried out in broad daylight.
Israel said troops targeted and killed a Hamas activist responsible for shooting two Israeli brothers last month. Palestinian armed groups later stated that all five other killed were also terrorists and were members of either Hamas, Islamic Jihad or the Al-Aqsa Martyrs' Brigades.
As Israeli forces laid siege to a house inside the camp, NBC News saw large crowds gather at the entrances to the camp and set fire to tires to try to block the assault force's exit. Israeli helicopter gunships and drones circle overhead, only occasionally visible through plumes of black smoke above the city.
Israeli police said at least three Israeli soldiers were wounded in the attack.
Two Israeli drones also crashed in Jenin during the fighting. It was not immediately clear whether they had been shot or malfunctioned.
Palestinian Authority Prime Minister Mohammad Shtayyeh called the raid a "massacre" and urged the Biden administration to do more to stop Israeli incursions into Palestinian cities.
Meanwhile, Israeli Prime Minister Benjamin Netanyahu praised his country's soldiers.
"Our brave warriors carried out the operation in the heart of the killer's den," he said. "I commend them and wish recovery to the wounded among our forces. As I say again and again, again and again: whoever hurts us – his blood is on his head.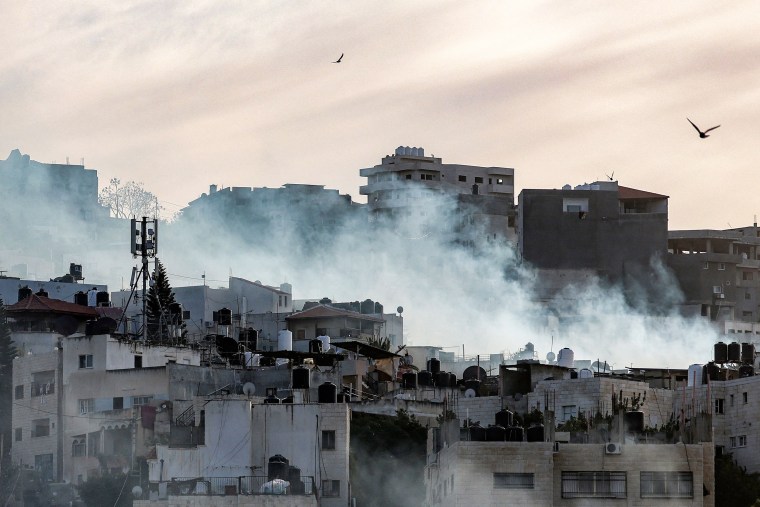 Palestinian Authority Prime Minister Mohammad Shtayyeh called the raid a "massacre" and urged the Biden administration to do more to stop Israeli incursions into Palestinian cities.
Defense Minister Lloyd Austin will arrive in Israel on Wednesday. He is expected to bolster the Biden administration's plea to reduce Israel's assault on the West Bank, while encouraging the Palestinian Authority to do more to confront extremist groups.
Barely months into 2023, the West Bank, Israel and Jerusalem are set to see the worst violence in two decades. So far, more than 60 Palestinians have been killed by Israeli troops—about half of them militants, according to a tally by the Associated Press. According to news agency records, Palestinian attackers have killed 14 Israelis and foreigners.
The northern city of Jenin was the site of some of the bloodiest fighting between Israeli forces and armed Palestinian groups during the Second Intifada, a wave of violence that lasted from 2000 to 2005.
Today, the Jenin refugee camp is a largely empty site. Palestinian security forces rarely enter the camp and have largely handed control of its densely packed street lanes to armed groups.
The Israeli military said the target of Tuesday's attack was Abdul Fatah Kharoshah, a 49-year-old fighter of the Hamas terrorist group. He is suspected of killing Hillel Yaniv, 21, and his younger brother Yigal, 19, during an ambush in the city of Havara on February 26.
The Israeli military said that Kharushah was holed up in a house inside the Jenin camp and was killed when Israeli forces fired rockets at the building.
The murders of the Yaniv brothers sparked a series of attacks by Israeli settlers on Palestinians in the Hawara area, killing at least one Palestinian.
Hours before the Jenin attack, an Israeli settler armed with an axe, attacked a Palestinian family in their car as they were leaving a supermarket on Hawara's main strip.
Driving was Omar Idrees, a 27-year-old nurse, along with his wife, their elderly parents, and their 2-year-old daughter, Tia. Idris told NBC News that he managed to get away from the assailant in the car, but only after the assailant sprayed a chemical stimulant in the car and hit his father over the head with a rock. The old man is still in the hospital.
When Idris was asked whether he believed Israel would find and prosecute the man who attacked his family, he burst into laughter.
"Of course not," he said. "Who is protecting us? WHO? Which government protects the Palestinians? None, it's just talking. No one is protecting the Palestinians.