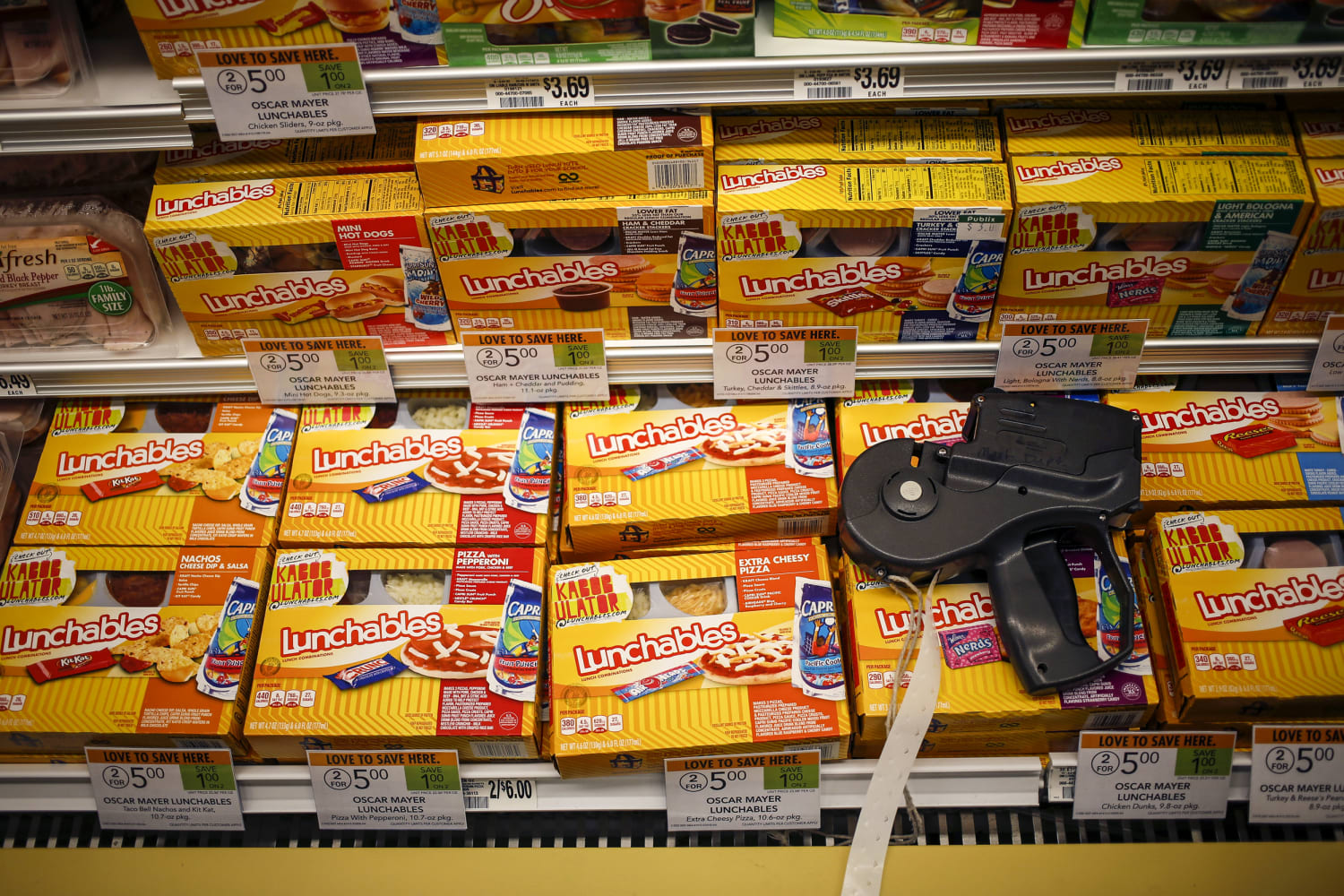 We all know Lunchables – the miniature snack-packs filled with chunks of ham and crackers, or the tiny DIY pizzas that have enthralled American kids for years.
Kraft Heinz announced Tuesday that the Lunchables will now be available not only at grocery stores nationwide, but also at schools where kids can buy them directly or receive them through a free lunch program.
Beginning this year, school administrators will be able to purchase two different lunchable offerings for the 2023-2024 school year: Turkey and Cheddar Cracker Stacker and Extra Cheesy Pizza, Kraft Heinz spokeswoman Jenna Thornton told NBC News.
As the names suggest, the Turkey and Cheddar Lunchables include slices of turkey and cheddar with crackers, and the Extra Cheesy Pizza includes Kraft Cheese Blend, pizza sauce, and crust.
Thornton says Two Lunchables now meet National School Lunch Program (NSLP) guidelines and have "a special recipe that includes more protein and whole grains," "reduced saturated fat and sodium, and Serving sizes add up."
"Not only does Lunchables keep kids powered up all day long, but it also powers kids' creativity and fun during mealtimes," Thornton said.
According to Kraft Heinz, the turkey and cheddar option comes in a 3.5 ounce container and contains 2 ounce equivalents of meat/meat substitute, 1 ounce equivalent of grain and "meets whole grain enriched criteria." Pizza option is in 5.05 ounce container and also contains 2 ounce equivalent of meat/meat substitute, 2 ounce equivalent of grain, 1.8 cups red/orange vegetables and "meets whole grain enriched criteria."
According to the National Library, ingredients for the Turkey and Cheddar Lunchables include roasted turkey, as well as preservatives such as sodium nitrate and tertiary butylhydroquinone, or TBHQ, while the pizza option includes sodium benzoate, which is common in processed foods. Is. Of medicine