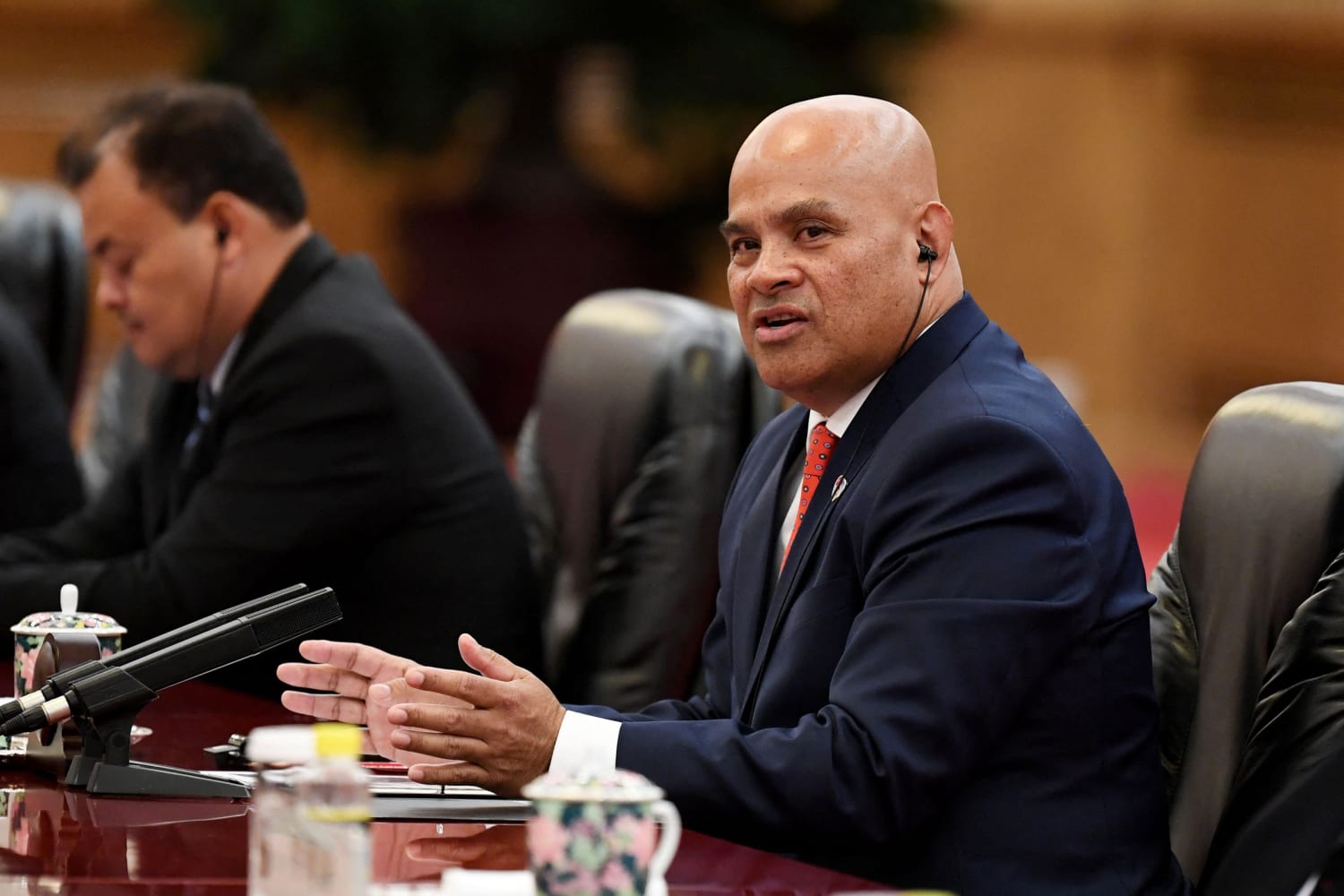 Micronesia's president accused China of "political warfare" in a letter to other national leaders and discussed switching diplomatic allegiance from China to Taiwan in exchange for $50 million.
President David Panuelo said that China was using nefarious tactics, including espionage and offers of bribes, in an effort to ensure that Micronesia would align with China rather than the United States if it went to war with Taiwan. Or at least refrain from taking it. Party.
Panuelo sent a 13-page letter on March 9, obtained by The Associated Press, to state governors and other political leaders in the Pacific nation.
The letter represented an unusually candid assessment of China's intentions in the region and highlighted financial incentives for smaller countries to switch diplomatic allegiance.
Should Micronesia switch allegiance to Taiwan, it would represent a rare victory for the self-governing island, with several Pacific countries switching allegiance from Taiwan to China in recent years.
"I believe that our values ​​are currently being used against us," Panuelo wrote in his letter. "One of the reasons China is successful in so many areas of political warfare is that we are bribed to participate, bribed to remain silent."
Citing an example, he said that when the Vice President was a senator, he was asked by the Chinese ambassador to accept an envelope full of money, which he declined.
China denied the allegations.
"We have noted relevant reports, in which stigmatization and accusations against China are completely inconsistent with the facts," Chinese Foreign Ministry spokesman Mao Ning said at a daily briefing on Friday.
Mao said, "We have always respected the development path of Micronesia that it has chosen in the light of its national conditions and supported the Micronesian side in defending independence."
Panuelo gave other examples of China's "gray zone" activities. He said Chinese research vessels were working to spy on the seabed of Micronesia, by mapping potential resources and submarine travel routes.
He said that when he traveled to Fiji in July to attend the Pacific Islands Forum, he was followed by two Chinese men whom Micronesia believed worked for the Chinese embassy in Fiji and included an intelligence officer.
"To be clear: I am at direct risk from PRC (People's Republic of China) officials acting in an official capacity against my personal safety," Panuelo wrote.
He said that in February, he met with Taiwan's Foreign Minister Joseph Wu and told him that Micronesia would need money for its trust fund if it were to change diplomatic allegiance.
"I was transparent with Foreign Minister Wu; We project that we need an injection of approximately $50 million to meet our future needs," wrote Panuelo. "We can and will receive this over a three-year period, if and when we establish diplomatic relations with
He said Micronesia would also receive a $15 million annual aid package and Taiwan would take over various projects initiated by China, including a national convention center, two state government complexes and two gyms.
Taiwan's foreign ministry declined to comment on the specifics of Panuelo's letter.
"Taiwan shares core values ​​such as democracy, freedom, human rights and rule of law with like-minded countries that care about peace in the Pacific region," the ministry said in a statement. "As a responsible member of the Indo-Pacific region, we will continue to work hand in hand with like-minded countries around the world."
Panuelo concluded by saying that he loved Micronesia too much not to inform them of the threats and opportunities facing the country, even though writing the letter put himself, his family and his employees at risk. You have put