A book about the late Afro Puerto Rican MLB legend Roberto Clemente that was removed from public schools in Duval County, Florida, has been approved for student use following review for references to racism and discrimination.
"Roberto Clemente: Pride of the Pittsburgh Pirates" by Jonah Winter and illustrated by Raul Colón was one of more than 1.5 million titles that were "covered or stored and withheld from student use" by the Duval County Public School District. According to Chief Academic Officer Paula Renfro, it has been determined whether such books comply with state laws.
Florida Gov. Ron DeSantis signed legislation last year requiring schools to rely on certified media experts to determine which books can be integrated into classrooms. Guidance on how this would be implemented was provided to schools in December.
The books must conform to state standards such as not teaching K-3 students about gender identity and sexual orientation, not teaching critical race theory — which examines systemic racism in American society — in public grade schools and Excludes references to pornography and discrimination. By state, school district.
In January, more than 50 certified media experts began reviewing over 1.5 million book titles for Duval. As of Monday, about 7,000 books have been reviewed and approved for student use, according to the school district.
"The book is now available to students," Duval County Public School District spokeswoman Sonya Duke-Bolden told NBC News on Wednesday in reference to the Clemente book.
The school district has not said whether more books were reviewed but not approved.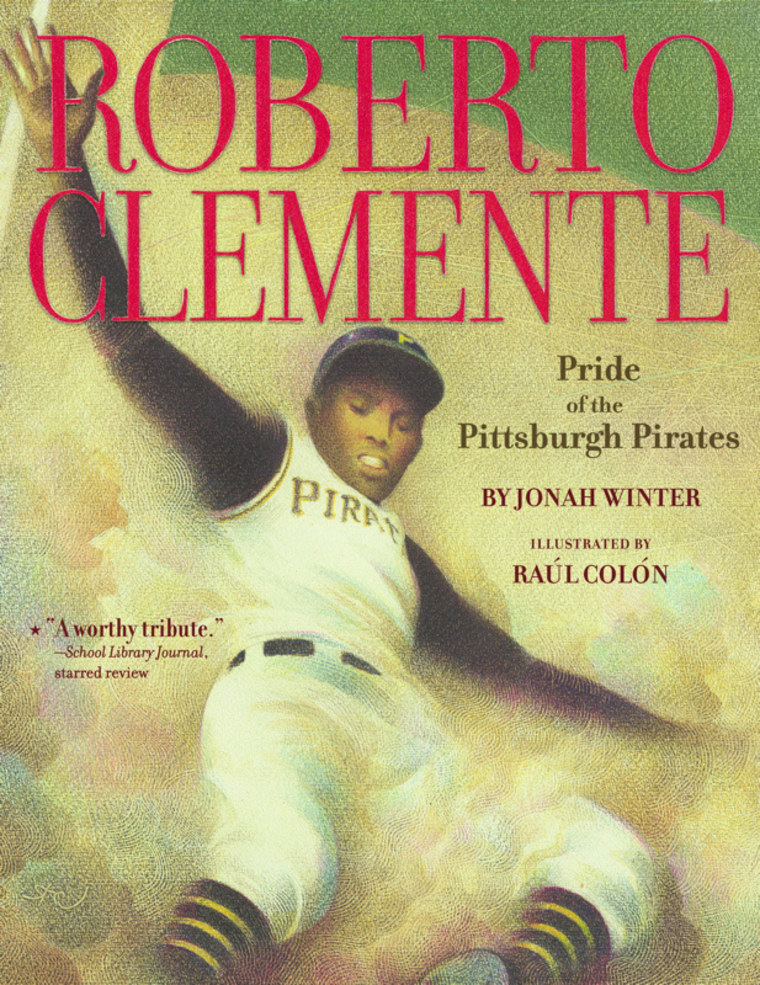 Clemente died in 1972 when his plane crashed off the coast of Puerto Rico while he was delivering relief supplies to earthquake victims in Nicaragua. He was 38 years old.
Clemente became a posthumous Baseball Hall of Famer with exactly 3,000 hits, four National League batting titles, 12 Gold Gloves, one MVP award, two World Series championships, and 15 All-Star appearances.
Clemente often denounced racism and discrimination in his native Spanish language, and he spoke publicly about his experiences as a Black Latino climbing the baseball ranks during the civil rights movement. He also spoke with Martin Luther King Jr. on political and social issues.
Roberto Clemente Jr., the Pittsburgh Pirates player's son, previously told NBC News that he owns Winter's book about his father, which was written for children K-3.
"His story is his story. He went through racism. It's something that can't be changed," Clemente Jr. said. What's more, they might be able to use a different book with the same story, but it's geared differently for them, for that age group."
Clemente Jr. said he hopes to empower people of all ages with his father's life story and legacy.
"We need to figure out how to continue to have that conversation and unite our cultures and nationalities," Clemente Jr. said.
PEN America, a nonprofit group that advocates for free expression in literature, said in December that 176 elementary school books from their Essential Voices collection were among the titles removed from Duval County public school libraries.
The organization said the removed books included more than 100 titles that were "considered too mature material for the grade level for which they were included in that collection".
More than 30 of these books are by Latino authors and illustrators or are centered around Latino characters and narratives. These included "Celia Cruz, Queen of Salsa" by Veronica Chambers and Julie Maren, "Sonia Sotomayor (Women Who Broke the Rules Series)" by Kathleen Krull and Angela Dominguez, and the book Clemente by Winter.
Cruz, known as the Queen of Salsa, was one of the most famous Latin music artists of the 20th century. Sotomayor is the first Hispanic and the third woman to serve on the Supreme Court.
According to the school district, school officials purchased the books from the "Voices needed to increase the diversity of authors, characters, themes, and perspectives in our classroom libraries" collection. But the purchase delivery included titles that the school had not ordered.
According to the school district, "We collected those books from the schools and placed them in district storage until our media specialists and others could review them."
According to the school district, 105 books from that collection were last sent to classrooms after review by media specialists. Krul's Sotomayor book was among that group, Duke-Bolden said, adding that the book "has not yet been officially reviewed by a certified media expert as required by Florida law."
Another book about a Supreme Court justice titled "Who Is Sonia Sotomayor?" Duke-Bolden said, reviewed and approved, and said that the book written by Krull "will be reviewed in the near future."
Duke-Bolden said Chambers' book about Cruise is approved for students in kindergarten and higher.
According to the school district, more than 40 books from the Essential Voices collection were returned. Some of them were returned because they had been replaced with titles that had been changed for books unavailable in the collection. Other books were sent back because the school district "determined that they did not comply with the new law or were not appropriate for early-age children."
Twenty-seven books from the Essential Voices collection are under review, according to the district.
PEN America said about two weeks ago that they had received "additional, conflicting information on the exact nature of when, why, and for how long the books in the Essential Voices collection were taken off classroom shelves in 2022." "
"We are working to update the details of this case," the organization said.