Days before a New Jersey teacher's body was found in a shallow grave, authorities seized a car belonging to her former classmate that contained an axe, a shovel and a blood-stained rope, according to court documents released Wednesday.
The details were included in an affidavit supporting a murder charge against Cesar Santana, 36, in the death of Luz Hernandez, 33, a kindergarten teacher at a Jersey City charter school.
Santana was also charged with obstruction, tampering with physical evidence and failing to dispose of human remains in the manner prescribed by law, the Hudson County prosecutor's office said in a statement.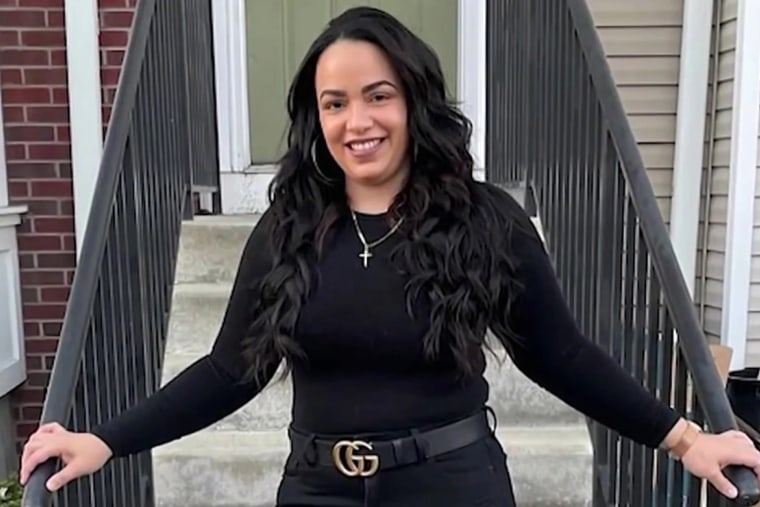 He was arrested at a motel in Miami on February 10 and extradited to New Jersey on Tuesday night, the prosecutor's office said.
The prosecutor's office said a second person, 26-year-old Lanier Miranda Lopez, was accused of desecrating human remains. Lopez is on the run.
According to the affidavit, Hernandez was reported missing on February 6 by Santana – the father of her three children – and relatives.
Authorities investigating her disappearance later learned that on February 4, Santana was seen walking to Hernandez's home in Jersey City, where she was alone, and, according to the document, returning from the home an hour later with a black and was seen dragging a yellow colored bin. The affidavit has been partially redacted and does not say who witnessed his movements.
The affidavit states that on February 5, officers in the nearby town of Kearny, NJ, issued Santana a motor vehicle summons and a second person was seen loading a black and yellow bin into a Honda. The registration of the car had expired and it was impounded.
The affidavit states that two days later, Jersey City officers conducting a welfare check at Hernandez's home noticed a faint odor of bleach. According to the document, they found cleaning supplies and a mop, and noticed blood stains in the bedroom.
Hernandez's body was later found in a shallow grave in Kearny. According to the affidavit, an autopsy attributed her death to blunt force trauma to the head and pressure on the neck.
A search of Honda turned up a large black and yellow bin with wheels, a pick axe, a shovel, clear plastic sheets and a rope, the affidavit said. Some objects were bloodstained; Officers found black hair on others. Soil is found on the sheet.
A spokesman for the prosecutor's office said Santana made his initial appearance in Hudson County court on Wednesday. It was not immediately clear whether he had an attorney who could speak on his behalf.