Hospital officials confirmed Monday that three of the five Michigan State University students wounded in last week's campus mass shooting are no longer in critical condition.
EW Sparrow Hospital, where the victims are being treated, updated its conditions as classes resumed in East Lansing for the first time since the shooting.
The hospital said one student was in good condition and two others were in serious but stable condition. The condition of two other students remains critical.
Three students were killed and another five were seriously injured when a gunman opened fire on two buildings on campus on February 13.
The gunman killed himself hours later in a shootout with police and a motive has not yet been confirmed.
The three students killed were: junior Alexandria Werner of Clausen, Michigan; Brian Fraser of Grosse Pointe, Michigan; And Ariel Anderson, also of Grosse Pointe.
Neither the police nor the hospital have identified the names of the seriously injured students.
However, a GoFundMe page named Guadalupe Huapilla-Perez as one of the surviving victims. It lists her as an MSU junior studying hospitality business.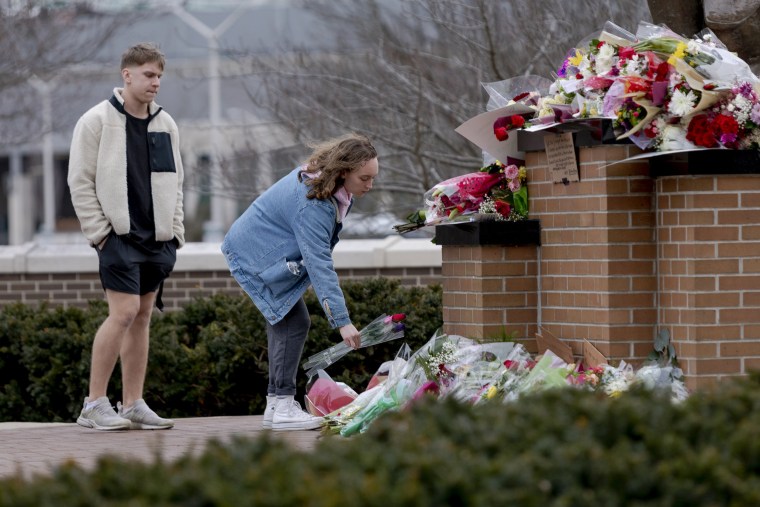 As of Monday afternoon, more than $449,000 had been donated towards her medical expenses.
Meanwhile, the Chinese consulate in Chicago said two Chinese students were among the injured.
Back on campus, no courses will be held this semester at neither Burke Hall nor the MSU Union student center where the shooting took place, said interim provost Thomas Zeitsko.
Professors have also been urged to re-evaluate goals for their courses and to extend grace and empathy to students who will determine at the end of the semester whether they wish to receive credit or grades for graduate courses. , They said.
MSU paid for the victims' funerals, as well as hospital bills for injured students, through its Spartan Strong Fund, which has raised more than $250,000 since the shooting, according to interim president Teresa K. Woodruff said.
Fraser and Werner were cremated on Saturday and Anderson is to be cremated this week.
Last week, dozens of students who escaped gunfire inside Burke Hall and Union were able to retrieve items left behind in their desperate rush to safety.
Julian McShane Contribution,