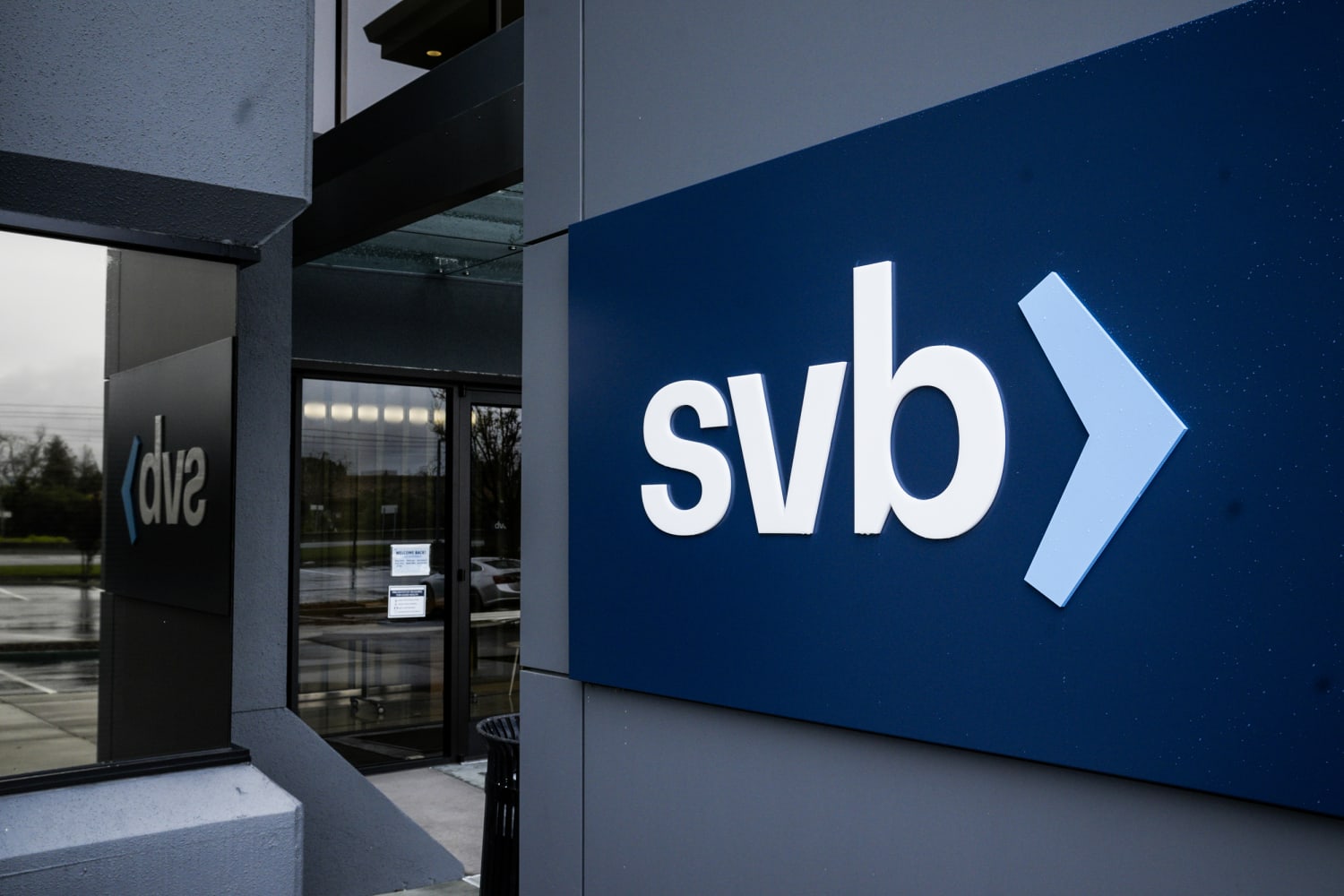 California lawmakers were told during a briefing call Sunday that the Treasury Department and the Federal Deposit Insurance Corporation's top priority after the collapse of the Silicon Valley bank is to engineer a sale, two people on the call told NBC News.
Lawmakers were also informed during the call that Treasury is working through options for uninsured accounts that exceed the $250,000 limit, according to sources.
The SVB's funds are currently held by the Federal Deposit Insurance Corporation. Everyone banking with SVB, one of the leading lenders to the tech sector, had access guaranteed by the federal government for only up to $250,000. The financial future of those who have deposited more than that amount with SVB remains uncertain.
House Speaker Kevin McCarthy, R-Calif., said Sunday that he "hopes" federal officials will make an announcement on the collapse of SVB before markets open.
McCarthy said in an appearance on Fox News' "Sunday Morning Futures" that he has spoken with Federal Reserve Chairman Jerome Powell and Treasury Secretary Janet Yellen after regulators shut down SVB.
"They have the tools to handle the current situation, they know the seriousness of it and they are working to try to come forward with some announcements before the market opens," McCarthy said. "I hope something can be announced today to move forward."
McCarthy said he thinks it is "very possible" for SVB to find a buyer, which he believes "will be the best outcome going forward and letting the markets cool."
Rep. Josh Gottheimer of New Jersey, the top Democrat on the Problem Solvers Caucus, plans to call on federal regulators to "act swiftly to reassure consumers," according to a draft letter obtained by NBC News that just Has not been sent yet. Gottheimer is currently in the process of gathering signatories.
"To be clear: We do not believe regulators should be assisting SVB shareholders," the letter said, in reference to the buyout discussion, which Yellen has already downplayed. "At the moment, we are concerned about depositors in SVB and banks across the country who have been taken aback by the sudden catastrophic failure of SVB, which unfolded in only forty-eight hours, partly accelerated by social media and pack mentality withdrawal "
Yellen said Sunday on CBS' "Face the Nation" that the bailout would not happen. He said the federal government is trying to find a way to help depositors.
The draft paper also urges Treasury and the Federal Reserve to prioritize finding a buyer for SVB; encourage banks that have relationships with SVB depositors to extend temporary lines of credit to help with essential costs such as payroll; Provide liquidity through repurchase agreements. It also asks Congress and the Fed to consider temporarily raising the FDIC limit on deposit insurance above $250,000.
Members of the California congressional delegation were briefed on SVB by the FDIC Saturday night, multiple offices in the House and Senate told NBC News.
Rep. Katie Porter, D-Calif., said rising interest rates were a factor behind SVB's closure, along with the Covid-19 pandemic and "in some ways, the bank's own management strategy."
In an MSNBC interview, Porter said, "There are real questions about why the bank didn't anticipate one of the most basic financial facts that everyone should know, which is that interest rates go up and they go down." Are."the sunday show,
"You can't bet on staying low forever," she said. "They didn't — they went up and the bank was not prepared for it and there are some real oversight questions about it."
Porter said in a tweet on Saturday that she was working on the legislation.
"The collapse of Silicon Valley Bank was completely avoidable," she wrote, "In 2018, Wall Street pushed a deregulation bill that allowed banks like SVB to take reckless risks. It passed, even though I and many others warned of the risks. I'm writing legislation to reverse that law, Section 2155."
Rep. Ro Khanna, D-Calif., said the acquisition would be an "ideal situation" and that was "clear" to the California delegation when they spoke to the FDIC on Saturday night.
"That is what we urged them to do. They said they are working on it. But for that to happen, you need to involve the FDIC and the Treasury, because these assets are not liquid, and they may pay off 10 years from now," Khanna said on CBS News' "Face the Nation." "I don't think you're going to get a private seller without the Treasury Department and the FDIC being actively engaged in helping with liquidity with these Treasury bonds."
Senate Banking Committee staffers were briefed in a call Saturday night and plans are underway for a briefing for committee members this week, congressional aides told NBC News.
Aides said a hearing in the case is not off the table, but has not been set.