South Korea's military said on Sunday that the United States and South Korea conducted a joint aerial exercise including strategic bombers, a day after North Korea launched an intercontinental ballistic missile into Japanese waters.
South Korea's Joint Chiefs of Staff said in a statement on Sunday that South Korean stealth fighters and jets flew alongside US F-16 fighters to escort the B-1B bomber.
"The purpose of the exercise is to demonstrate the South Korea-US joint defense capabilities and features of the coalition's heavy forces through the timely and immediate deployment of US extended deterrence assets in the Korean Peninsula," the statement said.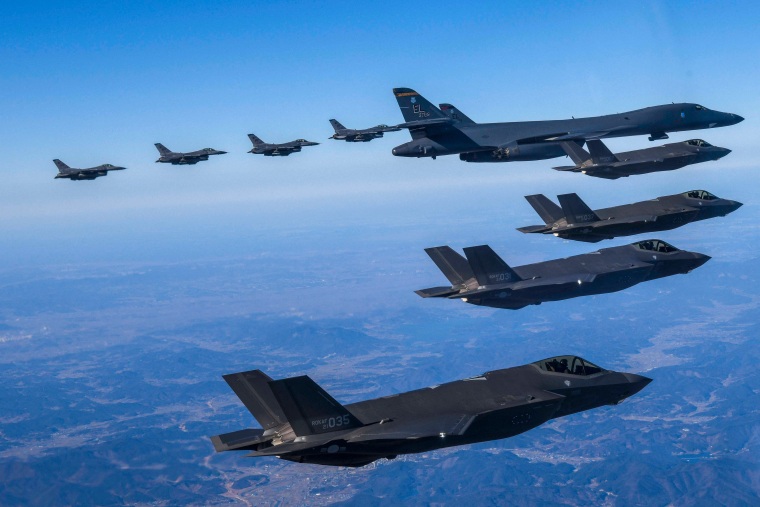 Japan's Defense Ministry said in a statement, Japan's Defense Ministry said in a statement, F-15 planes also flew over the Sea of ​​Japan along with B-1 bombers and F-16 of the US armed forces in the tactical exercise.
The drills were pre-planned a day after North Korea fired a long-range ballistic missile into Japanese waters from its capital Pyongyang.
Japan's Prime Minister Fumio Kishida said on Saturday that his country had "launched a very strong protest" after the missile fell about 125 miles west of Oshima Island in his country's exclusive economic zone, calling it a "disgraceful act". did.
Confirming the launch on Sunday, North Korea's state news agency KCNA reported that it was ordered directly by the country's leader, Kim Jong Un.
KCNA later published a statement from Kim's sister, Kim Yo Jong. It quoted him as saying that the target of the missile would not be South Korea because "we still have no intention of standing face-to-face with them."
He said the US must "stop all actions that threaten the security of our state," and warned of "very powerful and forceful retaliation against every move hostile toward us," according to KCNA.
North Korea is coming off a record year in weapons displays with more than 70 ballistic missiles, including ICBMs with the range expected to reach the US mainland in 2022.
Saturday's launch was only Pyongyang's second launch in 2023, but it came after a massive military parade in Pyongyang last week, with Kim displaying more than a dozen ICBMs.
Japan's Defense Minister Yasukazu Hamada told reporters that based on calculations it could have a range of about 8,700 miles, "in which case, the entire United States would be within its range."
Speaking after Saturday's launch, Secretary of State Antony Blinken said the US was "ready to engage with North Korea without preconditions" and "our commitment to the security of our closest allies and partners, South Korea and Japan". is firm." ,
North Korea has insisted that its test activities are meant as a warning amid an increased US presence in the region. But some experts worry that Pyongyang also uses the exercises as an opportunity to test new weapons, bolster its nuclear capability and exert its influence in future deals with Washington and Seoul.
Stella Kim reported from Los Angeles and Leela Sakur from London.
associated Press Contribution,