A woman in Anchorage, Alaska, is recovering from her injuries after being kicked in the head by a moose while walking her dog last week, in a shocking moment captured on video.
Tracy Hansen and her dog, Gunner, were walking the normal route they walk at least three times a day when they were suddenly pinned to the ground in the February 16 incident, they told NBC affiliate KTUU, which airs in Anchorage. is located in
"I thought someone wasn't paying attention and hit me with a bike or something," Hansen told KTUU. "I put my hands to my head, and I was like, 'I'm bleeding'."
It was only when he looked up that he realized he had been kicked by a large moose that he and his dog had run into earlier.
"Knowing that the moose was somewhere behind me and now, here's this moose in front of me, and I'm like, Was that the moose?" Hansen said.
It may have been hard to believe had the moment not been captured on video by another resident, Kate Timmons.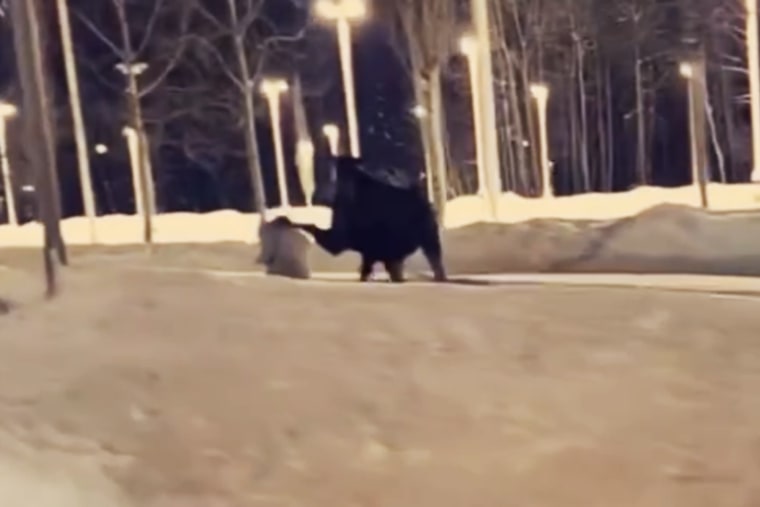 Timmons was passing by in a car with his family when the incident came to light. In his video, Moose can be seen lopping down the sidewalk, appearing to gain momentum as he moves toward Hansen.
"Careful! Careful!" Timmons screams as Moose runs towards Hansen, before slamming a hoop into his head and pinning him to the ground. The moose then slows down and continues walking on the sidewalk.
"My husband was able to pull her over the snow bank, so we could get her into the truck with our dog and get her out of the way," Timmons told KTUU. "It certainly seemed unprovoked from our perspective and it happened so quickly that it was just a matter of getting him out of the situation, getting him help, making sure, you know my big thing was that he had something in his head." There was no injury, that there was no bleeding or anything.
Hansen said their paths crossed at the right time.
"Kate and I were discussing how God put her in the right place, at the right time, to be able to help," Hansen said.
Hansen is still recovering from his injuries. She said she had to get staples for her head wounds and is still suffering from headaches and bruising.
Still, she said the incident didn't deter her from going on her daily walk with Gunner.
"We'll be back to our normal running," she said. "Moose won't stop him."