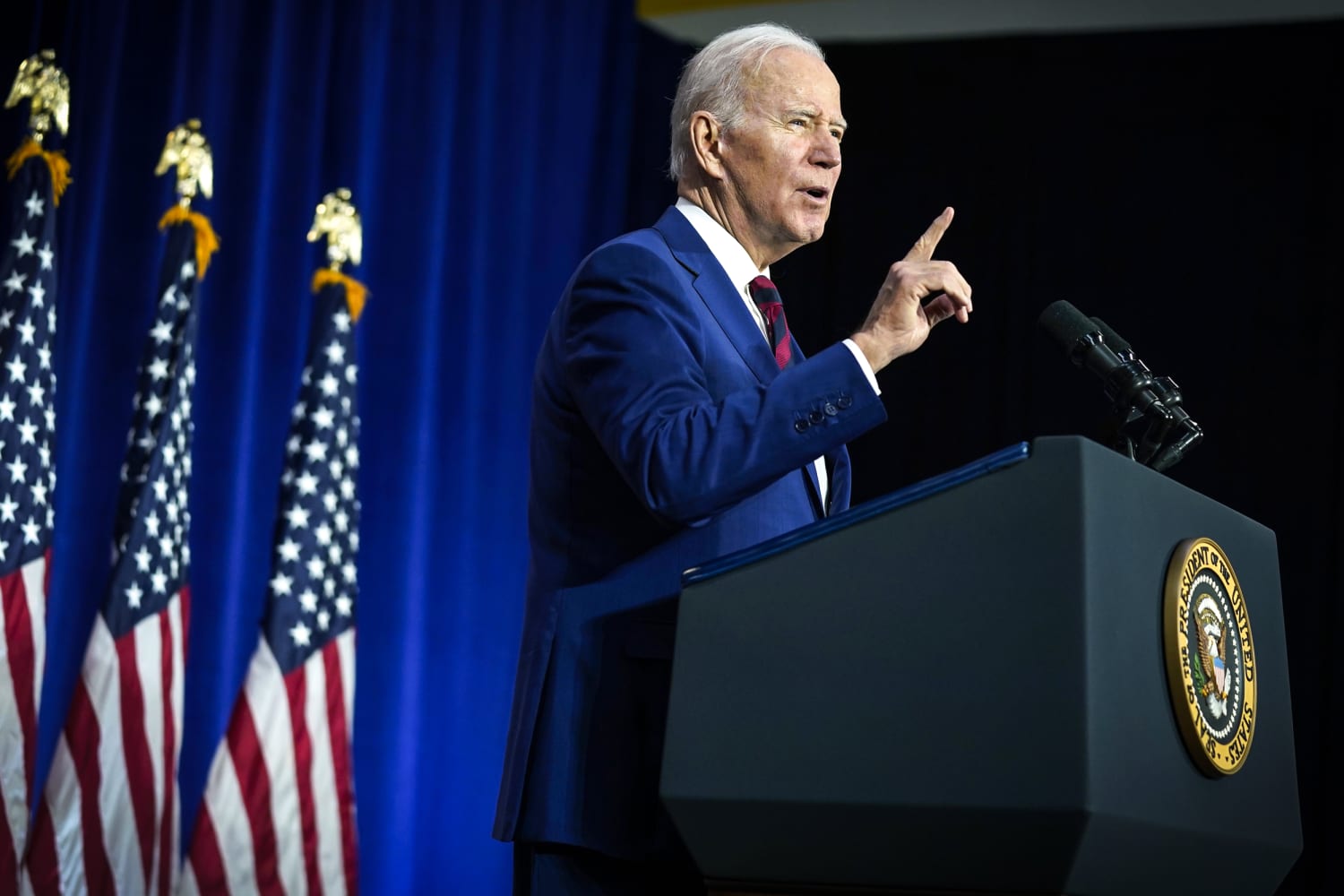 WASHINGTON – The White House is exploring additional ways to ensure accountability for those who were responsible for the collapse of Silicon Valley Bank, administration officials said Tuesday.
A White House official pointed to bonuses received by some bank employees last week and stock sales by senior executives in recent years, saying "they all deserve a closer look."
"Stay tuned on that front," said the official, speaking on condition of anonymity to discuss the Biden administration's thinking. "In the very near term, we're going to have more to say about the accountability aspects of this."
In his brief address on Monday announcing the government's plan to protect depositors, President Joe Biden made clear he did not want profit to be the cause of bank failure. This was one reason the 2008 bailout was so unpopular.
Hovering over Biden's response to the failure of SVB, the second-largest bank failure in US history, is that fateful episode from his past: the 2008 financial collapse. Some of the same players who helped pull off that debacle are still in office, starting with Biden. Hard lessons from the collapse of the global financial system 15 years ago are shaping Biden's response today.
took over after In 2009, the Obama-Biden administration faced bitter backlash when banks that had received government bailouts paid bonuses to their executives. In his memoir, "A Promised Land", former President Barack Obama lamented the "ignorant attitude of Wall Street executives whose collective asses we were pulling out of the fire."
A former official said the small scale of the SVB failure compared to the 2008 disaster gives Biden room to bolster customer confidence in the banking system and seek accountability for those potentially responsible for the crisis.
Former White House press secretary Robert Gibbs said when Obama took office, "Given the scale of the global problem there was more reassurance than accountability." "We were more trying to keep the boat from sinking than trying to find a new boat."
Heading into a possible re-election campaign, Biden may not be able to afford the populist uproar over the '08 crisis. And there is reason enough to worry. Last Thursday, when federal officials began hearing reports of panicked evacuations from the SVB, "the indicators were flashing red," said a second White House official, speaking on condition of anonymity to discuss the closed-door talks. Speaking on
NBC News reported Tuesday that the Justice Department has opened an investigation into the bank's collapse. But on its own, the White House could take administrative action or throw its weight behind legislation that would "return" the bonus money or any stock sale gains, First the officer said.
Representative Adam Schiff, D-Calif., is introducing legislation to recover stock proceeds and bonus money paid out for the bank's failure.
Biden privately told his advisers in meetings over the weekend that he wanted tighter regulations on banks to prevent future failures said another officer. Biden wants Congress to reverse deregulatory actions taken by lawmakers during the Trump administration – a move critics say has left banks more vulnerable to financial stresses.
It's unclear whether Biden has a specific blueprint in mind, but Sen. Elizabeth Warren, D-Mass., and Rep. Katie Porter, D-Calif., are putting forth legislation that would reinstate tougher requirements abolished under President Donald Trump. . Trump.
According to accounts from administration officials, Biden was first told about SVB's troubles on Friday morning and was told that the bank might need to be closed. Federal regulators shut it down later in the day.
Back home in Wilmington, Delaware, over the weekend, Biden went to church services but also received video briefings from Treasury Secretary Janet Yellen, White House Chief of Staff Jeff Zients, National Economic Council Director Lael Brainard and other officials. As he weighed the options, Biden asked what the bank's closure would mean for small businesses, workers and the broader economy. A main concern was that small businesses holding deposits at the SVB would not be able to pay their employees if the bank went bankrupt.
Rep. Joe Lofgren, D-Calif., said, "The estimate we found was that more than 1 million Americans may not have been paid, some of whom didn't know they were at risk."
The second official said that in his private briefing on Sunday, Biden also told advisers that those who caused the bank's collapse should not just go with impunity. He wanted the management fired, and told Yellen that taxpayer money should not be used to cover the deficit. Instead, the government will draw money from a special fund made up of bank charges.
In short, Biden wanted a resolution that looked nothing like the 2008 disaster.
Sen's advisor Faiz Shakir said, "If you can say in this moment of crisis, you are politically much stronger, 'I took over some banks on your behalf,' and here are some of the things I did. " Bernie Sanders, I-Vt. "The lesson of 2008 is not to go back to the American people and say, 'All the bank CEOs were telling me this was terrible, and I had to make sure life was okay for them.'"
Saving SVB remains a risky proposition for Biden, who presents himself as a champion of middle- and working-class Americans who may have little sympathy for a bank whose name owes much to technology. incites companies.
"Its Silicon Valley Bank, Even the name does not indicate 'working class'," Shakir said.
The bank's collapse has already touched off a partisan war that is likely to extend through the 2024 campaign season.
Republicans are looking to cash in on the bank's fortunes, drawing a line between Biden's economic policies and those of the SVB. House Speaker Kevin McCarthy, R-Calif., previewed a new line of attack against Biden stemming from the bank failure.
"Biden's reckless spending led to record inflation and rapid interest rate hikes, which broke household budgets and even banks," McCarthy tweeted, "We must restore fiscal prudence."
Yet Republicans face weaknesses of their own. While Trump was in the White House, Congress voted to loosen regulatory requirements governing small and medium-sized banks. Democrats argue that if those rules remained intact, SVB and other troubled banks of comparable size would face stricter liquidity and capital requirements, which would make them more resistant to financial stress.
Democratic pollster Geoff Garin said, "Trump and Republicans generally are far more vulnerable to siding with banking interests in weakening the Dodd-Frank safeguards."
However, the distinction is not very clear. Lawmakers from both parties voted to roll back pieces of the Dodd-Frank law, which was enacted after the '08 collapse.